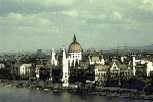 C E N T R A L E U R O P E A N N E W S:
Hungarian News Round-up
News from Hungary since
3 January 2000
---
Paul Nemes
On 1 January 2000, the Holy Crown of Hungary was moved to Parliament, which the Government Coalition say is a better place for the 1000-year-old national symbol than the National Museum, where it was kept previously. At the ceremony in Kossuth square outside Parliament, President Árpád Göncz said, "The presence of the Holy Crown in Parliament is truly symbolic: the Holy Crown has expressed supreme constitutional power for centuries and it has been the symbolic embodiment of power." Prime Minister Viktor Orbán pointed out that it was the Holy Crown that made it possible for Hungary to become a European nation 1000 years ago. Then, upon being crowned, Szent István (St Stephen) accepted Christendom and laid the foundations to the Hungarian state. Orbán also stressed that the Holy Crown belongs to Hungarians everywhere, saying that "the nation remains a nation regardless of where borders are drawn", and expressed hope that Hungarians would be able to live peacefully as part of the family of Western nations during the next thousand years. In his New Year's address President Göncz, who signed the new "Millennium Law" on the same day, wished Hungarians a less miserable millennium than the last one. (see article in this week's CER)
After a meningitis outbreak in army barracks in Szabadszállás and Kecskemét, Hungary feared an epidemic. Last week, a fourth person died of meningitis in Budapest while the condition of a ten-year-old girl in Debrecen was critical. According to Ilona Straub, head of the National Epidemiology Centre, 32 people had last week been taken to hospital with the illness, which is more than is normally the case in a whole year. Outside the military barracks, meningitis was reported in Budapest, Debrecen, Érd, Miskolcs, Mohács and Nyíregyháza - each reporting one case. Doctors urged people to seek treatment as early as possible - the meningitis (which has a 15 to 20 per cent death rate) has the same early symptoms of a cold, but can be deadly within 24 hours. According to Dr József Budai of Szent László Hospital, there is a good chance that the meningitis has been contained as the soldiers where the outbreak originated have been immunised. László Svéd, the Armed Forces' Chief Medical Officer, said on 6 January that all conscripts would be immunised against meningitis from February. There will be a joint session of the Parliamentary Defence and Health committees on the epidemic on 18 January.
The Government believes that Hungary's relations with Croatia will only improve after the change of government in Croatia. Gábor Horváth, a Foreign Ministry spokesman, said, "It appears that shared interests as well as earlier declarations by the Croatian opposition that they look at Hungary as a strategic partner clearly offer new vistas for improving... strategic cooperation between Hungary and Croatia." He said that he did not believe Orbán's presence at Franjo Tudjman's funeral last month would have a negative effect on relations. Horváth stressed that the two countries should use long historic ties and shared minority populations as a bridge in order to build closer ties to the EU and Western institutions.
Foreign Minister János Martonyi on Wednesday promised that Hungary would give Croatia as much support as possible to catch up with the rest of Europe. He told reporters that the Hungarian-Croatian relationship could not be governed by parliamentary elections, and said that the strategic relationship between the two countries will continue this year.
The Railway Workers' Unions, representing 56,000 railway workers, have again called a strike. Unless their wage demands are met, railway workers would go on a 60-hour general strike at midnight on 9 January. The Unions demand a 14-per-cent wage increase, while MÁV (Hungarian State Railways) have so far only been ready to offer an 8.5 per cent increase. On 7 January a settlement between MÁV and the unions looked unlikely, a press statement from the Free Union of Railway Workers saying that "a strike cannot be avoided." As with the shorter strike last month, this strike will in effect stop all domestic and international rail traffic in Hungary. Budapest bus drivers said that they also would go on strike on Monday, which is expected to cause chaos in the rush hour traffic. Likewise, the Airport Workers' Union were also though to be planning a sympathy strike at Ferihegy airport on Wednesday.
The European Commission has urged Hungary, and other candidates for European Union membership, to improve the situation of the Roma. The chairman of the National Romany Authority in Hungary, Flórián Farkas, said that the Cabinet has not guaranteed the implementation of Roma rights that were approved last year, and that this could hamper Hungary's hopes of EU membership. Toso Doncsev, head of the Office for National and Ethnic Minorities, thinks it will be at least 25 to 30 years before the Roma's economic, educational and social standards reach the national average. The EU also expects Hungary to take further steps towards reforming the economy and legislation.
Foreign Minister Martonyi has announced that Hungary will begin talks with the European Union on all chapters of the acquis in the first six months of this year. This will make it possible to concentrate on open questions in the second half of 2000 he said. Martonyi also made it known that the total amount of EU funds to Hungary - PHARE, ISAP and SAPARD - would increase to Euro 230 to 250 million, which is an increase by 2.5 times compared to last year.
Smallholder (FKGP) Chairman József Torgyán has said that the Government coalition has still not come to a final agreement on the bill on the privatisation of medical practices that was approved by the Cabinet on 4 January. Torgyán said the Smallholders would submit amendment to the bill, which could not be passed by Parliament last month due to the Smallholders' opposition.
According to a recent Gallup poll, little has changed from last year in terms of Hungarian expectations for the New Year. Forty per cent of Hungarians are still pessimistic about the future, but at least the majority are now looking towards the future with optimism. The results of the poll are though to mirror the economy, which now is past the worst. According to SG Securities, the Hungarian economy may become the fastest growing economy in Central and Eastern Europe in the next two years. Also Frankfurt based Deutsche Bank Research (DBR) predict an economic upswing, attributing the boom to growing exports to the EU. DBR expect Hungary's GDP to grow by more than five percent in 2000.
Speaking on 3 January, President Göncz said that he believes Central Europe can catch up with the European Union, but only if it can develop more quickly. He also said that Hungary should not make a break with Central Europe and the Visegrád Four. Göncz told the Czech daily Hospodářské noviny, "I expect that Hungary will catch up with the EU average in way of thinking, economic development and institutional structure in 20 years."
Tibor Szabó, head of the Office for Hungarians Beyond the Borders, said on Tuesday that the international view on the Hungarian minorities is changing, as they are no longer seen as destabilising factors. Szabó added that specialist committees have started work on a law that will determine the legal status of Hungarian minority populations, and he hoped the bill would be passed by Parliament by December. Foreign Minister Martonyi has said that the government aim to submit a bill to parliament in the second half of 2000.
Work could start on the Maria Valeria Bridge, which links Esztergom and Štúrovo/Párkány, this summer. According to Népszabadság, the job of clearing the Danube from wreckage of the bridge, which was blown up at the end of the Second World War, could begin in June. Péter Török, of the Infrastructure Ministry said that a Danish company is expected to have an evaluation report of the project finished by the end of this month. The project, including roads to the bridge, is expected to cost Euro 19.4 million. The European Union has promised to provide Euro ten million, and the rest will be made available by Hungary and Slovakia.
State Secretary of Foreign Affairs Zsolt Németh announced on Thursday that the Hungarian co-chairmanship of the South-East European Stability Pact will have HUF 375 million to work with to assist democratic forces in Yugoslavia. Hungary, co-hosting working table no. 1 during the first six months of 2000, hopes to strengthen the media and local authorities in Yugoslavia. Németh also called attention to a new law on local authorities, the aim of which is complete centralisation, and therefore international plans to finance local opposition could be fruitless. He also expressed concern over the effects Belgrade's law will have on Hungarians in Vojvodina.
Last year, 6066 people were granted Hungarian citizenship the Interior Ministry said on 3 January. The majority, 3463 came from Romania, while 1106 arrived from Yugoslavia and 760 from Ukraine. Since 1989, the highest number of applications was made between 1991 and 1993, when most applicants came from Transylvania and Vojvodina.
According to MTI the Ministry of Agriculture and Regional Development said on 6 January that protection against inland waters were underway in 113 villages. The area, a total of 336,000 hectares, comprises areas that have not yet been put under protection. The operation costs HUF 32 million a day.
After having sued Élet és Irodalom over a 20 August publication, FIDESZ - Hungarian Civic Party have now won the lawsuit against the Hungarian weekly. FIDESZ filed the lawsuit after the publication of an editorial which alleged that FIDESZ own companies, some run by Viktor Orbán's family, that were involved in privatisation deals. The paper was ordered to publish a correction within eight days. Editor in Chief Zoltán Kovács stated that the paper would do so, but also said that it would continue with investigative journalism.
Customs Officers confiscated 139 kg of heroin, more than what was seized during the whole of last year, at the Gyula border crossing to Romania on 6 January. The heroin was found in a Dutch truck bringing vegetables from Turkey to the Netherlands.
Bálint Magyar, Chairman of the Alliance of Free Democrats (SZDSZ), has said his party will seek to have a petition on the abolition of conscription signed by at least 50,000 people in order to start a debate in Parliament. They will also demand that the standard of barracks be brought into line with NATO standards, the amalgamation of civilian and armed forces epidemiology rules and the discharge of soldiers suffering from meningitis. The SZDSZ argue that a modern army can only be effective if organised along professional lines.
Y2K caused no major problems in Hungary. The Commissioner for Y2K management, Imre Mojzes, told a press conference in Budapest last week that service systems continued to work as normal despite the date shift, although there had been some random difficulties with date-settings. He said everything had gone as planned in the financial sector and traffic on railways, roads, water and in the air was running normally. Telecommunications had not experienced any problems either
In a poll held in Germany last week, former "Golden Team" Captain Ferenc Puskás was voted the sixth best footballer of the 20th century. Brazilian Pelé came out on top in the ballot held by the International Federation for Football History and Statistics. Gyula Grosics, Sándor Kocsis and László Kubala, last month voted FC Barcelona's best player ever, also made the list. Puskás said afterwards, "I wish that the next list for the 21st century include at least the same number of Hungarian players as this one."
Paul Nemes, 7 January 2000