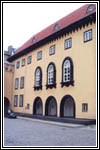 T H E A M B E R C O A S T:
History Greets the New Year on the Baltic
---
Mel Huang
As Latvia and Lithuania entered the new year, both countries faced difficult dilemmas stemming from their tumultuous history. The Nazi occupation of the two countries in 1941-44 forever scarred the two countries, and its effects are still being felt today. The visit of a prominent former Holocaust victim to the countries demanded revisiting of the painful issues, as did the discovery of one of the most notorious alleged perpetrators of Nazi crimes in quiet Leicestershire, England.
A complex history
During the years of World War II, the Baltic states were ravaged and raped worse than most lands in Europe. First, the Red Army rolled into the Baltics at the same time the Wehrmacht moved into Paris. After a year of horrors, including murders, deportations and forced Sovietisation, the Nazi invasion was first welcomed as a liberation. Three brutal years of Nazi occupation dispelled that illusion.
During those three years, many families were split between the two sides. Brothers raised arms against each other, fighting either against Nazi Germany or Soviet Russia. In both cases, people felt they were not fighting for on of the warring powers, but against the other; during that period, emotions ran high against both German and Russian control over the countries.
The ideological bent of Nazism shattered the tradition of ethnic and religious tolerance in the Baltics. For centuries, Lithuania had been known as a haven for Jews, and it was one of the first European political entities to welcome Jews when they faced persecution elsewhere. For centuries, Jews played a significant role in the development of Lithuania, as Vilnius (Vilna) earned a special place in Jewish history; the Lithuanian capital became a focal point for Jewish culture and enlightenment throughout this part of Europe. But the German invasion ended all that overnight.
After the Nazi front began to falter, local men faced forced conscription - though others joined voluntarily. This was the origin of units such as the Latvian Legion. However, there were always those eager to please the power-wielding regime by doing its dirty work (the same concept is applicable to those who collaborated with Soviet forces despite not having an ideological affiliation). Many became guards of concentration camps, such as Salaspils in Latvia and Paneriai in Lithuania.
The Arājs Commando returns to haunt
One such group of collaborators was the so-called Arājs Commando, a mobile unit designed to hunt down Jews and other "undesirables" on Latvian soil. The work of this bloody unit cost the lives of about 30,000 individuals, mostly Jews and Roma. After the return of Soviet control, many of the unit's leaders escaped, emigrating to many different countries around the world. Many died as free men, others died after being hounded by investigators. Some, like the group's leader, Viktors Arājs, were caught and imprisoned.
Then in December 1999, history came back to haunt Latvia when the Simon Wiesenthal Centre tracked down one of the Commando's reputed deputies, Konrāds Kalējs.
Konrāds Kalējs, a naturalised Australian citizen, led a successful life in both Australia and the United States before war crimes investigators pushed him back to Australia. In late December, the startling discovery that Kalējs, under pseudonym, was convalescing at a retirement home in Leicestershire, England shook British politics. UK Home Secretary Jack Straw faced intense pressure to arrest or deport Kalējs. This added to the pressure placed on Straw by the ongoing fiasco over former Chilean President Augusto Pinochet and the refusal to prosecute former Cold War spy Melita Norwood (see Amber Coast from 30 September 1999, "It's Never Too Late", for more).
With pressure mounting on him, Kalējs quickly made an escape back to Australia. Kalējs steadfastly maintains his innocence, claiming to be a student during the time. In any case, the quick move to Australia is likely to keep him free, as he had been cleared earlier in Australia due to insufficient evidence (though Australian investigators promised to pursue new leads if evidence warrants such a move). As Latvian prosecutors are gathering evidence against Kalējs, the extradition would still be extremely difficult. For example, Lithuania has been pushing Australian authorities to gather more information about Nazi war crimes suspect Antanas Gudelis, and information was received just recently after months of silence. Even if the Latvia indicts Kalējs and moves to extradite him, the case is causing tremendous damage to Latvia's international image.
An ill-timed trip
As the Kalējs saga continued in the British and Latvian press, US Congressman Tom Lantos paid the Baltics a visit. Lantos (D-CA) is a well-known, long-time congressman with extensive experience in the House International Relations Committee. However, Lantos is also a Holocaust survivor, being a former concentration camp inmate in his native Hungary. As such, the issues of war crimes prosecution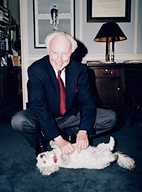 Congressman Tom Lantos

inevitably appeared on the agenda of the visiting congressman.

The visit was an inauspicious moment in Lithuania. In earlier meetings Lantos held with parliamentary, government and NGO officials, he felt quite satisfied at Lithuanian policies on prosecuting both Nazi and Soviet war criminals. Chats with Seimas Chairman Vytautas Landsbergis (with whom he remembers back ten years ago when he was in Lithuania as Landsbergis was fighting for the restoration of the nation's independence) and well-known Jewish MP and Chairman of the Seimas Human Rights Committee Emanuelis Zingeris set the congressman's mind at ease.

However, that quickly came to an abrupt end after a meeting with Prosecutor General Kazys Pednycia. Described by many as hostile (including the pounding of tables and voices heard in adjacent rooms), the meeting was called "very disappointing" by Lantos. Pednycia concurred, but explained that the prosecution of war criminals had been hindered by the lack of assistance from other countries as requests are ignored. He then listed countries such as Germany, Israel and the United States.

Lantos apparently lost his temper with that final suggestion, calling that notion "absurd." To those who fail to look into this issue any deeper, the incident puts Lithuania in quite a negative light.

However, there are elements of truth in Pednycia's statements. Several countries have been lax in responding to inquiries from Lithuania - especially regarding Soviet war crimes. One startling example is the recent visit to Lithuania of Israeli Interior Minister Natan Sharansky. The former Soviet Jewish dissident met with many former colleagues while in Vilnius, but he reaffirmed that Israeli laws do not permit the extradition of its citizens for trial abroad. Lithuania had requested the extradition of two current Israeli citizens, Nachman Dushanski and Semyon Berkis-Burkov, both for crimes committed during the Soviet occupation. Also, Lithuania has had trouble with Australia over the Gudelis Nazi war crimes case.

Specifically concerning the United States, Pednycia voiced frustration over the lack of concrete support from the Office of Special Investigations (OSI) of the US Justice Department. During the trial of suspected Nazi war criminal Aleksandras Lileikis, OSI chief Eli Rosenbaum suggested that Lileikis was faking his illness and stated he had proof. As Pednycia requested the proof, nothing came forward except more vocal criticism from Rosenbaum. In the end, nothing admissible was given to Pednycia and a Vilnius City Court halted the proceedings against Lileikis due to ill health (see Amber Coast from 11 February, "'International Justice' and Lithuania's Dilemma", for more earlier developments in this case). Though ill health and old age should not be a defence to anything - Lithuania is trying to counter this problem with amendments to the legal code allowing trials to continue without the defendant in court - this was clearly the US Justice Department offering talk only. A good example of how the giant machinery of the US Federal Government runs awry at times - much like in the constant US debate about "unfunded mandates" for states. Thus at the meeting, the conflicting frustrations of both Pednycia and Lantos came together in an unfortunate explosion.

No clean future without a clean past

What is clear with these episodes is that every country needs to face up to its history to be able to move on in the future. There is a difference in dwelling on the past (especially its faults) - as in Germany - or to properly acknowledge it. Some countries, such as Russia, have been very slow to examine their past. In some ways, the Baltics need to both explain their complex history better and to take more initiatives to prevent such disastrous PR problems from happening again.

While in Lithuania, Congressman Lantos offered these words of wisdom:
"All of us as individuals and as nations have dark chapters of our lives that we just assume not to read about. That is a mistake, because unless and until those dark chapters are faced up to courageously, forthrightly, without hesitation, they will come back to haunt you."
Lithuania, which finally began a regime of prosecuting Nazi war criminals as well as other war criminals, is on its way. But the case of Aleksandras Lileikis will always serve as a symbol for many of Lithuania's slow response in this area. If the legal amendments allowing trials to proceed without the defendant in court fail to be implemented before Lileikis dies, then the stigma will, sadly, remain on Lithuania forever. As with Latvia, even if it takes all the prudent action it can on the Kalējs case, the ultimate fate of the reputed Arājs Commando underboss probably rests with Canberra. Again, this case will remain as a stigma against Latvia for a long time into the future. History tends to haunt at the worst times...
Mel Huang, 6 January 2000
Archive of Mel Huang's Amber Coast articles
---
For more information:
The Lithuanian Foreign Ministry
Office of Congressman Tom Lantos
Australian Attorney-General's Department