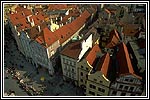 C E N T R A L E U R O P E A N N E W S:
Last Week in the Czech Republic

---
Kazi Stastna
A review of events in the Czech Republic for the week beginning 28 June 1999. As per usual, the week reeked of intrigue: mass cheating was unveiled at the Prague Law Faculty; accusations of political drug smuggling and journalsitic corruption were made; and Eurosceptics from 13 countries met for an international grumble session.
A severe case of cheating was discovered at the Law Faculty of Charles University, when a reporter of the daily newspaper Pravo received a copy of this year's full entrance exam, which - along with answers - was allegedly being sold to applicants. Investigations are under way but are rather hampered by the fact that they are being conducted by one police officer at the shabby Prague 1 police headquarters. See related article in this week's CER.
Due largely to the initiative of Christian Democratic MP Cyril Svoboda, and to the same tired doomsday warnings of threats to the "institution of the traditional family," parliament returned the bill on same-sex couples, which would allocate some of the same rights to gay couples as are enjoyed by heterosexual married couples - except for child adoption, for example. The bill will not be debated again until October.
Communist and ODS (Civic Democratic Party) MPs were unable to block debate in Parliament on reform of the citizenship law which would see allocation of Czech citizenship to those who lost it in the period between 25 February 1948 to 28 March 1990.
Minister of Health Ivan David warned doctor's against charging patients for services covered by health insurance. If doctor's were to start charging, as recent calls from the Chamber of Czech Physicians advised, they would forfeit their contracts with the insurance companies.
As of 1 July, rents of most apartments in buildings owned by municipalities or private owners went up by 9.3%. In 1997, the government decided to increase rents by an average of 50% - 100% in Prague and 62% in cities of more than 100,000 inhabitants.
Former chairman of the Christian Democrats Josef Lux who suffers from Leukemia will undergo a bone marrow transplant in Seattle, USA.
The weekly newspaper Respekt apologized for its false accusation that Minister of Foreign Affairs Jan Kavan smuggled heroin and corrected this statement - stating that the minister was stopped at the Brussels airport on account of the fact that he was with an acquaintance who was smuggling marijuana or hashish in a baby carriage.
A congress of Eurosceptics from 13 countries took place in Prague. Issues which were to be discussed were: European security, environmental problems, new barriers between East and West as well as growing disparity between rich and poor. The participants included members of several European parties and NGOs as well as some MPs of the European Parliament. Last year, the same congress took place in Budapest and the year prior in Warsaw.
Premier Milos Zeman stated that before travelling to Kosova last week, President Vaclav Havel should have acquired permission for entry into Serbia from Slobodan Milosevic.
Journalist Ivan Brezina lodged a complaint against Premier Milos Zeman for his - according to Brezina, false -accusations that Brezina signed an agreement with the national energy giant, CEZ and wrote made-to-order articles in support of the completion of the Temelin nuclear power plant. Brezina asked the Syndicate of Journalists to asess his cooperation with CEZ. The Premier made his accusations following a conversation he had with CEZ director Milan Cerny, who later claimed to have erroneously informed the premier on the basis of incomplete information.
In a vote of 103 to 45, Parliament approved the release of 2 billion crowns worth of state bonds for the relief and peacekeeping effort in Kosova.
According to a recent survey conducted by IVVM (Institute for Research into Public Opinion), the most respected professions are doctor, university professor and scientist.
Kazi Stastna, 5 July 1999