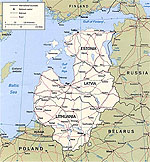 C E N T R A L E U R O P E A N N E W S:
News Review for the Baltic States

All the important news from Estonia, Latvia and Lithuania since 26 June 1999.
---
This review of the week's events contains several parts. Click below to move to your area of interest:
---
Estonia
The negative supplemental budget was finally passed after the opposition dropped its obstructionist tactics. The one billion EEK in cuts were approved by an expected 53 to 41 vote. Some final tinkering went into the bill before the third and final reading which gives more funds to agriculture.
However, the opposition did catch the Riigikogu out of quorum, which foiled a debate for bills relating to WTO accession. Prime Minister Mart Laar said this could make the ratification process difficult before the October deadline.
Director of Narva Elektrijaamad (Narva Power Plants) Anatoli Paal was found murdered in his home. His son reportedly confessed to killing Paal during a domestic dispute. Paal was considerably popular among both Estonian- and Russian-speaking communities in Narva, and until recently, he served as Narva City Council chairman. Narva Power Plants controls the two oil shale-firing power plants that supply over 90 percent of Estonia's electricity.
While Lt Gen Johannes Kert leaves for a year to study in the US, President Lennart Meri appointed Colonel Urmas Roosimagi to be the acting head of the Defence Forces. This was a bit surprising, promoting the head of the air defence division. Most people expected the Chief-of-Staff Major General Ants Laaneots to be elevated for the year. Some accuse President Meri of violating the law on defence forces with the choice.
The Tallinn City Council approved a controversial supplemental budget containing a 130 million EEK loan. Opposition in the City Council (coincidentally the governing coalition in the Riigikogu) claimed it is an election ploy which would harm the fiscal health of Tallinn and jeopardise its credit ratings. Local elections are due in October. This, along with a dodgy privatisation deal on the Central Market, got the opposition to file a no-confidence motion against City Council Chairman Edgar Savisaar of the Centre Party. Savisaar was the one who led the 500+ amendments delay scheme in the Riigikogu with the national negative supplemental budget. Different ideas on fiscal policy clearly.
Lieutenant Jaanus Karm was found guilty of negligence over the Kurkse tragedy, in which 14 soldiers drowned during a training session. The highly emotional trial ended with a sentence of four and a half years in prison for Karm. The victims' families protested the prison sentence, saying they will appeal to President Lennart Meri.
Football fans are in shock. Already falling dangerously close to not making Euro 2000, the Estonian national team found itself in hot water, when a large group of players was blacklisted by the police for failing to serve their mandatory time in the military. The players may be barred from travelling abroad due to the blacklisting. But there is at least one success story. Andres Oper was sold for 15 million EEK to Danish club Aalborg, joining a growing group of Estonian nationals playing in top leagues around Europe, such as goalkeeper Mart Poom of Derby County in the English Premiership.
Something that few would believe on election day, but the government approved a preliminary set of customs tariffs. The government free-marketers campaigned against tariffs for many years and installed Estonia's current tariffs-free trade scheme. Unfortunately, harmonising with the acquis communautaire of the EU forces Estonia to de-liberalise its trade.
Britain's GB Railways began talks with the Privatisation Agency over the sale of Edelraudtee (South-western Railways). GB Railways apparently beat out French giant CGEA.
At the same time, the British Merchant International Group (MIG) announced that Estonia was the safest emerging market in Europe for British investments - while Russia was the most dangerous.
Sixteen officers were sacked due to irregular or forged education records. The military was placed under pressure to sack the group.
Heavy metal giants Metallica performed in Tallinn to a large audience of 25 to 30,000 at the Lauluvaljak (Song Festival Grounds). The grounds crews need to hurry since the large Song Festival follows the concert by only a few days.
Italian European Affairs Minister Umberto Ranieri visited Estonia on 2 and 3 July. EU enlargement was on the top of the agenda as expected.
The IMF revised its economic forecasts, with GDP to rise 2.3 percent in 1999 and 6 percent in 2000. Inflation should remain low at 4 percent (1999) and 3 percent (2000).
Looking ahead, some operators of ferries between Estonia and Finland called on the government to ask for an EU exemption on duty-free once Estonia becomes a member. Between now and membership, traffic between Estonia and the Nordic countries should expand beyond the already overwhelming rate due to the EU's ending of duty-free shopping within its members' borders.
---
Latvia
Outgoing President Guntis Ulmanis held a good-bye party with the region's presidents. Presidents Valdas Adamkus (Lithuania), Aleksander Kwasniewski (Poland) and Lennart Meri (Estonia) met with Ulmanis and his successor, Vaira Vike-Freiberga. Ukrainian President Leonid Kuchma was also due to attend, but cancelled at the last moment due to domestic workload.
The Latvian Central Statistics Department officially indicated that Latvia is in a recession, as Q1 GDP dropped by 2.3 percent. This joins the Q4 (1998) drop of 1.9 percent. However, most experts believe it should start to recover in Q2 and reach about 2 percent by year's end.
Along the same lines, the IMF dropped their predictions for GDP growth in 1999 to 1.5 to 2 percent and inflation at 1.5 to 2.5 percent. Earlier, they had predicted a rather optimistic set of numbers: GDP to rise 4 percent (1999) and 5 percent (2000), while inflation was to sit at 3 percent for both 1999 and 2000.
More realistically than the cheerleading above, the Economist Intelligence Unit stated earlier that GDP will rise only 1.5 percent this year and 2.5 percent in 2000, coupled with inflation of 2.8 percent (1999) and 4.3 percent (2000).
With the economic mess, Prime Minister Vilis Kristopans distanced himself from the economic problems, placing the blame on "Russia being bankrupt."
The prosecutor's office said it would not file charges for now on the alleged bribery scandal over the presidential race. Leader of the Social Democratic Workers' Party, Juris Bojars, claimed that he was bribed to sway his party's votes towards Latvia's Way. Other politicians have also come forward since with similar accusations.
After years of delay, the Latvian Defence Concept has finally been drafted. This foresees an active and reserve force of some 50,000 individuals for the defence of Latvia.
A motor rally turned into a tragedy, when a car careened into the spectators. Eight individuals were killed and 24 injured at the racetrack in the Madona district of Latvia. The police are investigating the incident.
---
Lithuania
Prime Minister Rolandas Paksas made a one-day visit to Moscow on 29 June. There he held a long-awaited meeting with Russian Premier Sergei Stepashin. The meeting focused on bilateral ties, such as oil and gas transit and the border agreement. However, issues concerning NATO and the gigantic Russian war games near the Baltic countries' borders failed to appear on the agenda. Several agreements were signed, iincluding those covering the prevention of double taxation, the promotion and protection of investments and trade liberalisation. Paksas also met with Moscow Mayor Yuri Luzhkov.
Greek President Constantinos Stephanopoulos made a three-day state visit to Lithuania. EU, NATO, and Kosova were all on the agenda in the meeting with President Valdas Adamkus, but the focus was on economic ties. The Greek delegation included a group of businessmen. Visiting officials also signed an agreement on the readmission of illegal immigrants and a regional co-operations agreement between the Kaunas and Thessaloniki regions.
President Valdas Adamkus took a two-day visit to Warsaw to participate in a seminar on European integration. There he also met with Moldovan President Petru Lucinschi.
However, the meeting in Warsaw on minority issues failed to produce many answers. The issues of the spelling of names and the Polish checkpoint in the town of Punsk are still sore points. A Lithuanian negotiator said "the problem is that the Poles seem to be more concerned for their nationals living outside the country than for the situation of national minorities inside Poland."
Prime Minister Rolandas Paksas took part in the World Economic Forum in Salzburg. During the event, he also held a bilateral meeting with Kazakh President Nursultan Nazarbayev. Paksas noted that Lithuania is interested in Kazakh oil and the discussions featured mostly on promoting economic ties.
Defence Minister Ceslovas Stankevicius visited Prague to discuss NATO integration with his counterpart, Vladimir Vethy. A Lithuanian medical team is working with the Czech unit in the Balkans.
Having just been made head of the Lithuanian military, Col (US) Jonas Kronkaitis was promoted to Brigadier General in Lithuania.
Sixteen Russian soldiers were forced to turn around at the border while en route to Kaliningrad, as they did not have the proper transit documents. Apparently Lithuania also refused an air corridor to the head of the Russian Baltic Fleet, stating the aircraft did not meet safety regulations.
Several Polish Senators protested against the ongoing trial in Lithuania of ethnic Poles in the Salcininkai district. The accused attempted to gain "autonomy" for the area during the lead-up to independence, and Lithuanian politicians at the time believed it was being used as a staging ground for a Soviet invasion.
British junior Home Office Minister Kate Hoey visited Lithuania to discuss the problem of illegal immigration. Though praising Lithuania for installing further controls, the problem of bogus asylum claims in Britain for Lithuanian nationals continue.
Preliminary figures show GDP dropped by 5.7 percent in Q1.
The IMF, finally issuing a slight warning to Lithuania, projected GDP to rise by 2.5 percent (1999) and 4.5 percent (2000). Inflation will rise by 2 percent (1999) and 4 percent (2000).
Unemployment in May fell to 7.8 percent from 8.1 percent a month earlier, with the southern Lazdijai region still topping the list at 16.1 percent.
Controversial Israeli Ambassador Oded Ben-Hur is to conclude his term in the Baltics late summer. He has been involved in several controversies, including last week's labelling of Lithuania as a "haven" for war criminals.
At the same time, prosecutors are ready to charge Vincas Valkavickas for his role in the killing of Jews during WWII. Valkavickas returned to Lithuania last month after the US initiated deportation hearings. Valkavickas maintains his innocence.
Farmers in Lithuania called for 13 July to be a day of action of some sort. This could mean road blockages and protests, though most still hope it won't develop into a "Lepper" situation.
---
Exchange Rates
As of 1 July 1999
currency
Estonian kroons (EEK)
Latvian lats (LVL)
Lithuanian
litas (LTL)
1 US dollar (USD)
15.29
0.60
4.00
1 British pound (GBP)
24.05
0.95
6.29
German mark (DEM)
8.00
0.31
2.09
Euro (EUR)
15.65
0.62
4.09
| | | | | | | |
| --- | --- | --- | --- | --- | --- | --- |
| currency | Czech koruna (CZK) | Hungarian Forint (HUF) | Polish Zloty (PLN) | Russian rouble (RUB) | Slovak koruna (SKK) | Slovene tolar (SIT) |
| 1 Est. kroon (EEK) | 2.32 | 15.91 | 0.26 | 1.59 | 2.88 | 12.49 |
| 1 Latvian lats (LVL) | 58.82 | 403.80 | 6.50 | 40.23 | 73.18 | 317.04 |
| 1 Lith. litas (LTL) | 8.86 | 60.80 | 0.98 | 6.06 | 11.02 | 47.74 |
---
Prepared by Mel Huang, 2 July 1999
---
News Sources
Baltic News Service (BNS)
The Baltic Times
Radio Free Europe/Radio Liberty
Reuters news on Yahoo
ETA
Eesti Paevaleht
Postimees
Aripaev
ELTA
Lietuvos Rytas
Lietuvos Aidas
Kauno Diena