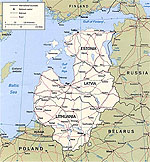 C E N T R A L E U R O P E A N N E W S:
News Review for Lithuania
All the important news from Lithuania
since 25 September 1999
---
The Lithuanian Statistics Department strangely delayed the release of preliminary Q2 GDP numbers until 12 October, instead of the usual 30 September. The Department claims it was due to late data, but the release conveniently comes one day before - thus perhaps too late to damage - the European Commission's country reports on all prospective members. I smell a rat.
More woes on the oil sector front, as a Russian representative of an industrial association all but threatened Lithuania for a piece of its oil industry. Russia's LUKOil is not happy that it will not be able to take a larger chunk of Mazeikiai Oil, Lithuania's transit and processing company, which is slated to go to US-based Williams International. The representative basically said that LUKOil would cut off crude supplies, which would force the Lithuanian company to get more expensive crude from elsewhere. Adding to the woes, the deal with Williams remains in absolute chaos, with recent delays prolonging the 18-month long process even further.
Lithuania will not be switching off of summer time at the end of October like most countries, because it will switch time zones back to its original zone which corresponds to that of Latvia and Estonia. Lithuania shifted to Central European Time 18 months ago in a strangely symbolic attempt to show its commitment to European integration, but the public was dead set against it. For one, crossing the Latvian border would force a one-hour time change and the Belarusian border a two-hour change! The government is also thinking of dumping summer time as a fixture on Lithuanian clocks in the near future.
Two religious figures murdered by the KGB in the 1940s have been reburied as martyrs. Bishop Vincentas Borisevicius and Rev Pranas Gustaitis were both honoured in a ceremony before being reburied in their local parishes.
Former Prime Minister Gediminas Vagnorius continued his attack on the government of Prime Minister Rolandas Paksas - despite the Conservative Party calling for a 100-day moratorium on intra-party public attacks. This is fuelling speculation that the party will split in the near future, perhaps disastrously timed with both local and general elections in 2000.
This came about as the Seimas approved in principle the government's energy strategy - which calls for a partial Ignalina shutdown by 2005. The energy bill passed 61 to 16 after Vagnorius forced a clause to condition the close on generous foreign assistance funding. Now the strategy goes to committee and the debate is bound to intensify.
Human Rights Commissioner of the Council of Baltic Sea States (CBSS) Ole Espersen visited Lithuania and was generally satisfied - though he did comment about the amount of violence children are exposed to from the media. He also checked out the case of disgraced MP Audrius Butkevicius, who claims his arrest and conviction for bribery was politically motivated.
After the Espersen visit, the disgraced MP apparently swallowed his pride and through his attorney asked President Valdas Adamkus to grant him clemency (see Amber Coast from 19 July for more on this sad case of a former Defence Minister gone wrong and the pathetic response from the Seimas).
Seimas Speaker Vytautas Landsbergis took part in the meeting of Central and East European centre-right parties in Warsaw.
The date of the next local elections has been set for 19 March 2000.
Regulators say that frozen deposits at the failed bank Litimpeks should be returned by mid-December.
Luxembourg's Foreign Trade Minister, Lydie Polfer, is in Lithuania to talk about expanding bilateral ties. She met with various officials, including President Valdas Adamkus.
The UN World Investment Report showed that foreign direct investment in Lithuania in 1998 was USD 251. This is still much lower than Estonia, but higher than Latvia.
Fringe MPs are continuing to question the Lithuanian-Russian border treaty's ratification. This time it is MP Kazys Bobelis who is calling for the "question of Kaliningrad" to be settled before any treaty ratification, since Lithuania may have a direct interest in the disposition of the territory. The measure is stuck in the parliaments of both countries.
Regional Affairs Minister Sigitas Katkys is dead set against extending the length of office for local councils. There are proposals to make the terms four years instead of the current three.
Exchange Rates
As of 30 September 1999
currency
Lithuanian
litas (LTL)
1 US dollar
4.00
1 British pound
6.58
1 German mark
2.18
1 euro
4.26
---
Mel Huang, 1 October 1999
---
News Sources
Baltic News Service (BNS)
The Baltic Times
Radio Free Europe/Radio Liberty
Reuters news on Yahoo ELTA
Lietuvos Rytas
Lietuvos Aidas
Kauno Diena