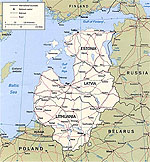 C E N T R A L E U R O P E A N N E W S:
News Review for Latvia
All the important Latvian news since 25 September 1999
---
A Riga court found Mikhail Farbtukh guilty of genocide and sentenced him to seven years in jail - less than the 12 demanded by prosecutors. Farbtukh, now 83, was convicted of ordering the deportations of 31 families from Daugavpils in 1941. The ex-KGB operative denied his guilt, and said that the jail sentence is a fate "worse than death." Three others in Latvia have been charged for genocide (see this week's Amber Coast on age and prosecution).
The Latvian government is reeling from a massive paedophilia scandal. Stories of the scandal have been inundating the Latvian press, adding further speculation and rumours to the already charged case. Even members of the government have been implicated in the press, though no one has seen any proof (see this week's special feature - Turning Yellow: Latvia's irresponsible press, for commentary on how the rumour-mongering Latvian press is creating more chaos).
Adding to that, the Saeima formed a panel to investigate the claims of government involvement. The motion to form the panel was supported by two coalition members - Latvia's Way and For Fatherland and Freedom - and the opposition Social Democratic Workers Party. The third coalition member - People's Party - refused to take part. However, People's Party leader and Prime Minister Andris Skele has given the government's support for the investigation pursued by the Prosecutor General's Office and has earmarked extra funds for it.
Some are angry over the EU report that shows Latvia to be the poorest country among EU candidates, with 1996 GDP at 26 per cent of the EU average. The eastern Latgale region, centred around Latvia's second city Daugavpils, is considered the poorest region in all candidate states, with GDP at 16 per cent of the EU average. Many are angry, since the GDP numbers used are very old statistics from 1996.
The Human Rights Commissioner of the Council of Baltic Sea States, Ole Espersen, made a visit to Latvia.
The UN World Investment Report showed foreign direct investment in Latvia lagging far behind other regional countries at USD 113 per capita - just over a quarter of Estonia's figure.
The moribund Tolaram Fibres factory in Daugavpils has been officially declared insolvent. Protests by discontent workers, who were not paid prior to the plant's closure, have been mounting in the poor region.
Exchange Rates
As of 30 September 1999
| | |
| --- | --- |
| currency | Latvian lats (LVL) |
| 1 US dollar | 0.58 |
| 1 British pound | 0.95 |
| 1 German mark | 0.32 |
| 1 euro | 0.62 |
---
Prepared by Mel Huang, 1 October 1999
---
News Sources
Baltic News Service (BNS)
The Baltic Times
Radio Free Europe/Radio Liberty
Reuters news on Yahoo
LETA
Neatkariga Rita Avize