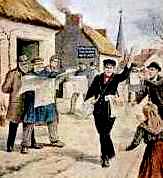 M E D I A:
Turning Yellow
Latvia's irresponsible press
---
Steven C Johnson
Latvia has had no shortage of scandals since the restoration of independence in 1991, but the recent pedophile scandal - though barely two weeks old - is shaping up to be the most disturbing.
Sadly, it's not just the gravity of the alleged crimes - sexual abuse of minors and child pornography - that is so troubling. The disgraceful and unprofessional behavior of the Latvian journalists covering the issue has shown just how much growing up this country has to do before it becomes a vibrant and healthy democracy.
Ever since the local TV news program Nedela (This Week) alleged government involvement in an illicit child porn and prostitution ring in Riga, rumors and accusations have been treated as unvarnished fact, reputations have been smeared and serious conflicts of interest ignored.
There is plenty of blame to go around. It ought to begin with LNT (Latvijas Neatkariga Televizija, the independent TV station that broke the story on 19 September). Two anonymous teenage boys told reporters they were sexually abused by the president of a local beauty pageant and then forced to perform sexual favors to Riga's elite businessmen and public officials, including two current ministers. But the station stopped short there, refusing to identify the ministers or back up its accusations with facts.
The story elicited swift denials from the government and calls for a special parliamentary investigation from Latvia's Way, one of the biggest parties in the ruling coalition. Justice Minister Valdis Birkavs even called for FBI assistance and said solving the case quickly is crucial for Latvia's international image. (No mention of it being crucial to stop sexual abuse of children).
LNT has continually rebuffed requests to reveal its sources from the prosecutor's office, already running an on-going investigation into child pornography that included the arrest of a Riga video store owner in August. The journalist responsible for the story said he needs time to gather strong evidence to back up the claim, which means, I suppose, that he had none when he went on air with such serious charges.
Aivars Ozolins hit the mark dead on when he wrote recently in the newspaper Diena: "What has been done is reminiscent of a classic KGB provocation - no one has been concretely accused, but all are smeared... (and) ...the heart of the matter is left in the shadows."
Ozolins, a Diena columnist, is one of the few bright lights in the local media who understands ethics. Sadly, it appears most reporters and editors do not.
Witness the Russian-language newspaper Chas. Last week, it printed two blank boxes on its front page that it claimed were photographs, turned face-down, of two ministers who "prefer young boys." The paper claims to know the identity of the ministers but has refused to report this information.
Meanwhile, the press has all but convicted the beauty pageant president of sexual abuse, publishing the accusation as if it were fact. Never mind that there have been no charges, no arrests, no proof. If the man is eventually charged - guilty or not - he is entitled to a fair trial. But it is not likely he will get one.
A journalist's aim should be to report the truth. Those with compelling evidence of a crime that implicates government officials have a duty to report it - all of it. To claim ministers are involved and then refuse to name them or back up such serious charges with hard facts is beyond irresponsible. Without the names and facts, the show should never have been broadcast.
Latvia does have a flimsy set of libel laws, but they are usually used as a tool in political disputes. Even worse, few recognize that the behavior of the press would often be considered libelous in Western countries. Here, it's simply "normale," as Latvians often say.
Now, the Prosecutor General has claimed the entire show was fabricated; some of the boys featured on air have told authorities they were bribed and the interviews were staged.
Is it true? Who knows? But the media's decision to report rumor and innuendo instead of verifiable, attributed fact lends credibility to the prosecutor's claims.
Yet another disturbing fact is that the producer of the LNT show - Edvins Inkens - is also a deputy in the current Saeima (Latvia's Parliament). It was his party, Latvia's Way, that has been the most vocal in calling for an investigation.
Too few people - in the media, in government, or in the general public - view Inkens' double role as a basic conflict of interest. In the West, such a conflict is hard to imagine. Here, the line between press and public officials has been blurred far too often. Earlier this year, a top spokesman for Latvia's Way fabricated an interview with the NATO Secretary General in a local Russian-language paper for which he also worked. Nobody, including the newspaper's editor, recognized a conflict, though the imaginative writer was fired from his post in the party, but only because his antics were bringing it bad publicity.
Even Inkens himself has been at this before. Two years ago, he was behind a news program that alleged that Prime Minister Andris Skele, then a private businessman, was involved in corrupt business deals. Although Skele's People's Party and Inkens' Latvia's Way are uneasy partners in the government today, the two have long been political adversaries.
Latvia isn't the only country in the world with shallow roots in democracy, and perhaps it is unrealistic to expect a robust and responsible free press to have developed in nine years.
But Latvia does fancy itself on the road to organizations like the EU and NATO. Ukraine has press problems as well, but no one is talking about making Kiev an EU capital anytime soon.
Meanwhile, the pedophile scandal threatens to join a long list of post-Soviet scandals that have gone unsolved. If there really are minors being forced into prostitution and pornography, this sad fact looks more and more likely to be buried under the layers of delay and deceit that Latvia's journalists and politicians - willingly or not - have constructed.
Steven C Johnson, 30 September 1999
Steven C. Johnson is editor in chief of The Baltic Times, an English-language weekly that covers Estonia, Latvia and Lithuania.
Related Links:
Latvijas Neatkariga Televizija (LNT)