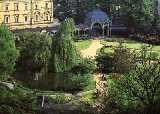 K I N O E Y E :
From East to West and Beyond:
The Karlovy Vary Film Festival

---
By Andrew J Horton
This coming week sees the start one of the most prestigious events in the Central European cinema calendar: the Karlovy Vary International Film Festival. In the following weeks, Central Europe Review's Kinoeye column will be giving a full analysis of around thirty films being shown at the festival. To whet your appetite, here is an overview of what is being screened this year.
The Karlovy Vary International Film Festival attracts attention at all levels. Last year saw visits from Lauren Bacall and Michael Douglas and Czech gossip columnists had their tongues set a wagging when famed director Jiri "Closely Observed Trains" Menzel took a stick to his producer in a hotel lobby, in an argument over the film rights to Bohumil Hrabal's last novel. The stick was afterwards bought by a Czech actress who approved of the director's actions. This year, Woody Harrelson and John Landis will be guests of the festival and, whilst Kinoeye cannot even begin to speculate on the juicier titbits of scandal that might emerge at this year's festival, the line-up of screen events is fairly certain.
The festival is divided by theme into a number of sections, the most obvious of which is the competition category. Films from all over the world will be competing in this section and Central Europe is well represented with films such as Natalia Koryncka-Gruz' Amok (Poland), Alexandr Rogozhkin's Checkpoint (Russia), Ivan Nichev's After the End of the World (Bulgaria/Greece/Germany) and Janez Burger's Idle Running (Slovenia). The home side's entry is Cozy Dens by Jan Hrebejk. An interesting one to watch will be Miklos Jancso's blackly humorous kickstart to his beleagured film career The Lord's Lantern in Budapest. When the film was entered at the Hungarian Film Week in Budapest earlier this year, the pre-selection jury eliminated it from the competition in favour of a feeble collection consisting largely of Hollywood wannabes. Foreign critics took a rather different view of the matter and awarded the film their Gene Moskovitz prize. Watch this space to see how the Czechs warm to it.
"Horizons" presents films which have already been awarded at other festivals but are not in the competition in Karlovy Vary. Amongst this category are Emir Kusturica's Black Cat, White Cat which sees him return to a more measured directing style after the wild egotistical excesses of Arizona Dream and Underground. True, the latter film is his masterpiece, something which Black Cat, White Ca certainly isn't, but Black Cat, White Cat has a far better sense of pace and fun. Also included in this section is Kusturica's compatriot Goran Paskaljevic, with his film Powder Keg, Jerzy Hoffman's Polish nationalist epic By Fire and Sword, and Moloch, the latest work from perhaps the most important contemporary director in the region, Alexandr Sokurov. Sokurov, as well as wowing critics, became popular with audiences with his last film, Mother and Son. All eyes will be watching to see if he can consolidate on this cult hit, admired by the likes of Nick Cave and Martin Scorsese.
"A Different View" is a category devoted to independent films - an essential section to any good film festival. Independent cinema isn't so active in former Communist countries, where being able to make a film at all is seen as a miracle - even if one has to conformed to the mainstream. However, six of the section's fourteen films come from Germany.
Czech films have their own section. As well as general releases from the last twelve months, there are student films for those who really want to keep their finger on the pulse of up-and-coming Czech talent. Also on show will be The Cow - as homage to director Karel Kachyna.
Central European films which are not in the competition and have not been awarded at other competitions are lumped together in the "From East to West" category. This section of over twenty films stretches across the entire region and includes films from Azerbaidzhan, Russia, Latvia, Poland, Hungary, Slovenia, Croatia, and Austria. Nothing, by Poland's rising star Dorota Kedzierzawska, will be one to watch, as will quirky new-age director Jan Jakub Kolski's The History of the Cinema in Ashes. Also well worth watching is Outskirts, Peter Lucik's pastiche tribute to Soviet cinema of the 1930s.
If there was a prize for the most long-awaited film it would surely go to Aleksei German's Khrustalyov, my Car! German's last film My Friend Ivan Lapshin (1982) was the seminal Russian film of the early eighties and quickly became one of the top ten best-selling Russian films of all time.
If all that isn't east enough for you, you might prefer the retrospective of 16 Kazakh films - an impressively bold piece of programming from the organisers, and a once in a lifetime opportunity to explore this terra incognita of former Soviet cinema. Alternatively, if you prefer Western cinema, you might be tempted by the collection of Belgian surrealist films or Canadian animated shorts. Whatever your tastes, there is doubtless enough to keep even the fussiest cinephiles happy.
Kinoeye will be in Karlovy Vary for the next two weeks. While he is away, Central Europe Review will be taking the opportunity to republish updated and expanded new versions of articles on some of the Karlovy Vary films which he has already managed to catch on the international film circuit.