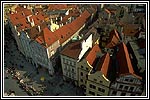 C Z E C H R E P U B L I C:
Last Week in the Czech Republic

---
By Kazi Stastna
A review of events in the Czech Republic for the week beginning 21 June 1999. Much in the spirit of last week, MiGs and unruly radical leftists dominated the scene - oh, and the usual round of political and TV Nova squabbles was not to be missed, of course. In addition, some brave defenders of human rights were remembered, and one more passed away.
A renowned figure of Czech exile, supporter of the Czech underground and dissent, Jiri Pelikan, died in Rome at age 76. Pelikan had a wealth of experiences under his belt: he was director of Czech Television during the Prague Spring of 1968, emigrated to Italy after the August Russian invasion and served as a member of the European Parliament for 12 years for the Italian Socialist Party. He was known among Czechs in exile as the publisher of the politico-cultural bimonthly Listy.
Victims of Communism were remembered at a memorial service at the grave of Milada Horakova, an MP of the National Socialist Party in post-war, pre-Communist Czechoslovakia, who was executed in 1950 in a show trial on charges of treason and espionage.
The Czech news agency, CTK, couldn't believe its ears, when travel czar Vaclav Fisher pronounced on television that he was not opposed to higher taxes for people with a high income. CTK was quick to call a spade a spade - or a dirty rotten red, as the case may be - subtly pointing out that Fisher's opinion was right in line with the sentiments of his debate partner on the program - Communist MP Zuzka Rujbrova.
GDP fell by 4.5 percent in the first quarter of 1999. The last quarter of 1998 registered a fall of 4.1 percent.
In yet another round of senseless mud-slinging on the Czech political scene, Premier Milos Zeman accused former Foreign Minister Josef Zieleniec of paying journalists and media agencies to groom his personal PR image during his time as minister. Zieleniec challenged the Premier to prove his claims, and Zeman later admitted he had obtained the information from secondhand sources and launched a search for the incriminating evidence. As per usual, Czech media hit up any available political analyst and representative of the major parties to give his or her opinion on the meaningless exchange.
According to an article which appeared in the Czech daily Mlada fronta Dnes, the financing practices of the Civic Democratic Party (ODS) are not transparent. The article alleged that behind many of the 2000 names of people who donated up to 100,000 Kc to the ODS are some of the country's top-dog entrepeneurs, often from one and the same firm.
Defense Minister Vladimir Vetchy met with British commander of the North-Western division of the international forces in Bosnia Herzegovina, Freddie Viggers, to discuss the possible reduction of SFOR forces in that country. The British commander expressed a desire to see the continued participation of Czech soldiers in the mission.
The Syndicate of Journalists ousted the "leftist radical", Jan Krecek, on account of his various unruly outbursts and accused him of using his syndicate membership for his own political aims. Krecek, an outspoken activist and known shit-disturber, caused an uproar when he whistled and allegedly set a small NATO flag on fire during the regal NATO entry ceremonies at Prague Castle in March. He also took part in the recent Global Street Party protest outside the American Embassy.
According to a recent report from the Ministry for Regional Development on the transfer of property belonging to the former Communist Party since 1990, the government has not succeeded in acquiring the property formerly in possession of the Party's Central Committee, worth between 150 to 350 million crowns. The deadline for having to return the property has elapsed, and no grounds for further claims exist.
The American company CME claims that a recent audit performed by Delloite and Touche has proven that former director of Nova Television Vladimir Zelezny, along with IP Bank, attempted to gain full control of the country' s two private television stations - Nova and Pirima. CME, which dismissed Zelezny from his post of director several months ago, accused him of violating anti-monopoly laws as well as his contractual obligations to CME. CME President Fred Klinkhammer charged that Zelezny could use his dominance of the Czech media market to exert influence over Czech companies and politicians.
Two men from the North Bohemian town of Liberec were accused of illegally selling MiG-21 aircraft to Kazakhstan. With the number of MiGs that have fallen out of Czech skies in recent years, one hopes, for the sake of Kazakh citizens, that the planes were intended as scrap metal.
The former head of the Roman Catholic diocese in Prague (in the years 1965 to 1991) and a vocal supporter of human rights and civil society Cardinal Frantisek Tomasek, was remembered by Cardinal Tomas Vlk in a mass in St Vitus Cathedral. Tomasek died in 1992. He would have turned 100 on 30 June.