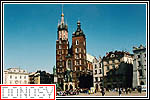 C E N T R A L E U R O P E A N N E W S:
Donosy's Week in Poland

---
Inflation in June amounted to 0% (based on preliminary data), due chiefly to a fall in food prices.
On June 15, Russian military helicopters intruded 8 km across the border into the Warminsk-Mazuria region.
Street merchants are to be tolerated in Defilad Square in Warsaw only until September. Such limits have been announced before, but following police action and the visit of the Pope, the traders have begun to take over Marszalkowska St. again.
200 Polish paratroopers arrived in Skopje, Macedonia, after a 110-hour journey. They will be stationed near Kacanik in Kosovo, close to American soldiers from the second battery of the 505 regiment. Their chief task will be to take care of problems of the civilian population, such as the reclaiming of stolen property. The "Polish zone" still contains many land mines. Another 720 Polish soldiers and heavy equipment are scheduled to arrive in the next few days.
Workers from the Lucznik Factory are threatening another appearance in Warsaw. The Industrial Development Authority can allegedly carry out its promised purchase of 5000 Beryl rifles from the arms manufacturers only with Defense Ministry funds, but Defense Minister Janusz Onyszkiewicz has said that the ministry cannot spend funds for this purpose this year.
Female candidates will be allowed to study at the Technical Military Academy in Warsaw. Yesterday, 42 women started studying - chiefly computer science, electronics, and mechanics.
Polish Prime Minister Jerzy Buzek visited Japan. He encouraged Japanese investment in Poland and received promises from Toyota for building a gearbox factory and from the Maurbeni firm to modernize mines and a generating station in Belchaty. Japanese businessmen complained of problems with obtaining Polish driver's licenses and of the lack of English speaking attendants at the Central Railway Station.
A commission investigating last week's riots at the Ministry of Defense noted that the police acted in accordance with the law and in accordance with procedures.
Dissatisfied nurses demanding higher wages occupied the offices of the Supervising Commission for Social Insurance.
Leszek Miller was named provisional chair of the Democratic Left Alliance (SLD), pending the planned fall conference. The rest of the officers are practically the same as those of the now disbanded Social Democracy of the Republic of Poland (SdRP) party.
The State Prosecutor in Warsaw announced the arrest of a high-ranking military officer on charges of spying for the KGB.
New border crossings have been opened with the Czech Republic and Slovakia to accommodate mountain hikers.
Coca-Cola has been having trouble solving the issue of mold in its products. It has withdrawn from the Polish market all of its soft drinks in O.33l glass bottles, which apparently have been contaminated by mold. The source of the contamination seems to be inadequate cleaning.
The balance of trade in May showed a surprisingly small deficit of USD641 million. The news drove up the zloty and the general stock market index.
The heat wave continued throughout the country.
---
Donosy's Week in Poland appears in Central Europe Review with the kind permission of Donosy-English:
DONOSY LIBERAL DIGEST: ISSN 0867-6860
Donosy-Polish Editors: Lena Bialkowska (Editor-in-Chief), Michal Jankowski, Michal Pawlak, Ksawery Stojda (founder)
Copyright (c) 1999
Donosy-English editors and translators: Lidia Trojanowska and Lawrence Schofer
Circulation: Wojtek Bogusz
We welcome your comments and suggestions concerning Donosy-English. Please contact Lawrence Schofer at ljschofer@bee.net
To subscribe to Donosy-English send mail to listproc@fuw.edu.pl with text: subscribe DONOSY-ENGL your name
To terminate your subscription to Donosy-English, please send to the same address the line: unsubscribe donosy-engl
Old issues of Donosy-English are available on WWW at:
http://info.fuw.edu.pl/donosy-english/donosy-index.html
http://wlheye.jsei.ucla.edu/~donosy
Subscription of Donosy in Polish is available from listproc@fuw.edu.pl by sending mail with text: subscribe donosy-L your name