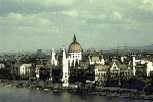 C E N T R A L E U R O P E A N N E W S:
Hungarian News Round-up
News from Hungary since
13 November 1999
---
Paul Nemes
Prime Minister Viktor Orban believes that the Government now has a real opportunity to pass a bill on the legal status of Hungarians beyond the borders. Orban made the comments in an interview on Duna TV after the Hungarian Permanent Conference decided that the status of Hungarians who are citizens of other countries should be codified in Hungarian law. The conference ended with the parties agreeing to a compromised Status Bill which will grant Hungarians visa-free travel to Hungary, duty- and tax-reductions, easier access to employment and education in Hungary as well as the right to use Hungarian health services, but no voting rights in Hungary. Miklos Duray, Executive Deputy Chairman of the Hungarian Coalition Party of Slovakia, said that special status for the Hungarians beyond the border would stop the political and economic blackmailing which aims at assimilating Hungarians. The Chairman of the Office for Hungarians Beyond the Borders, Tibor Szabo, told the daily Magyar Hirlap that the Cabinet would settle the issue within two years.
After his visit to Croatia last week, which was said to have been a success, Orban defended the position that Hungary should build a closer relationship with its southern neighbour. It has been suggested that, in return for helping to modernise the port of Rijeka/Fiume, which provided Hungary with access to the sea before 1920, Hungary would gain access to the port. Orban confirmed that the Government is giving priority to investments in the Carpathian basin, but rejected criticism voiced by the opposition that he is suffering from a grand illusion of wanting to make Hungary a regional power. He said, "Hungary has not and cannot have any illusions to become a regional power. Hungary strives for integration."
The Hungarian Coalition Party (MKP) in Slovakia held its congress last week. Re-elected Chairman Bela Bugar said that the MKP has strengthened its unity in order to, as one of four parties of the government coalition, speak more effectively for the Hungarians of Slovakia. Deputy Prime Minister Pal Csaky, who had run for the post of chairman but decided to drop out, spoke of the MKP's government responsibilities, saying that there is no doubt that the MKP's government policy is correct. Slovak Prime Minister Mikulas Dzurinda also spoke at the conference held in Komarno/Komarom. He said, "The Hungarian Coalition Party adheres to the agreements reliably and pursues an increasingly credible state-building policy."
Prime Minister Orban and Foreign Minister Janos Martonyi left for Istanbul on Wednesday for a two-day visit to the Organisation for Security and Cooperation in Europe (OSCE) summit. Orban met the Premiers of Portugal, Macedonia and Lithuania, while Martonyi was scheduled to hold talks with the Norwegian foreign Minister. Orban said in his address to the summit that one of the lessons to be learnt from the Kosovo crisis is that, in order to avoid genocide, there must be a system of minorities protection. With regard to the European Security Charter, Martonyi said that, for Hungary, the most important issue was whether or not the text refers to rights of national minorities with reference to human rights and if it considers concepts of autonomy. This was settled in a satisfactory manner on Thursday.
The amendment of the 1990 Conventional Forces in Europe (CFE) Treaty was signed by the leaders of 30 countries on Friday morning, chaired by Viktor Orban, as Hungary is chairing the CFE adaptation talks at the moment. MTI reported that Orban said, "Adjusting the CFE treaty to the current circumstances will make it possible for it to be utilised as a means to settle local and regional crisis."
On his way to Peru and Panama, President Arpad Goncz met UN Ambassador Richard Holbrooke in New York on Tuesday. The two discussed the situation in Yugoslavia, including the debris left from bombed-out bridges on the Danube and the situation of the Hungarians in Vojvodina. Jozsef Torgyan, travelling with Goncz, was expected to discuss Hungarian agricultural exports to Peru and cooperation schemes with Panama.
During his recent visit to Brussels for the meeting of European Union and Western European Union (WEU) associate member countries, Janos Martonyi said that he supported Javier Solana's appointment as WEU secretary general. Martonyi said that NATO and the EU must work closer together in order to become more efficient. He also said that he saw Hungary's role in the EU as being one of crisis management above all, while NATO should continue its role of collective defence.
Otto Habsburg, Chair of the Pan-European Union, has said that he believes Hungary will join the EU in 2002. He also said that Hungary's policies since the fall of Communism have effectively prepared Hungary for accession to the EU, and noted that, with regard to this, international opinion of Hungary is outstanding. Nikolaus van der Pas, Commission Director-General for enlargement, later told Nepszabadsag that the upcoming December EU summit in Helsinki will not set a date for enlargement, but he thought Hungary could be admitted in 2003.
On Wednesday, Janos Ader, Speaker of Parliament, and a delegation arrived in Sofia for a three-day visit. After having had talks with the Bulgarian Speaker of Parliament, Yordan Sokolov, Ader said that he had given Sokolov advice from Hungary's own process of economic transformation and Euro-Atlantic integration. Ader was also expected to meet Bulgarian Prime Minister Ivan Kostov, Vice President Todor Kavalijev, and verify that Hungary supports Bulgaria's Euro-Atlantic integration.
Finance Minister Zsigmond Jarai told local businessmen in Szombathely that the Hungarian economy could grow by more than five percent in 2000. He also said that the government's GDP growth forecast of 4.5 per cent for this year was too low, and that the current account deficit for 1999 could come to below USD two billion. The government forecast is USD 2.3 billion, which is the same deficit as in 1998. The statement comes in contrast to a projection by the Organisation for Economic Cooperation and Development (OECD), which says that Hungary's GDP will only be 3.5 percent in 2000.
A survey by the international accounting company Deloitte and Touche has placed 14 Hungarian companies in the top 100 Central European companies. This puts Hungary in third place with regard to the number of companies in the top 100. Poland tops the list with 38 companies in the top 100, while the Czech Republic is second with 20.
The first joint exercise by the Hungarian-Romanian battalion was held in Arad last week. Hungarian army Chief of Staff Lajos Fodor and his Romanian counterpart Constantin Degeratu, who also met in Arad last week, said that the joint peacekeeping force was ready for deployment in Kosovo. Degeratu said that Hungary's NATO membership is positive for Romanian security and for the region as a whole, while Fodor stated, "Hungary continues to be interested in Romania gaining [NATO] membership as soon as possible." The five-day manoeuvre was the first joint exercise where Hungarian soldiers took part as members of NATO. According to Major-General Ferenc Gyorossy, the Hungarians did not bring any weapons to the exercise, because all technology was provided by Romania. Next year, when Hungary hosts the exercise, the Hungarian army will supply all the military hardware.
The Hungarian rescue team left Duzce, Turkey on Wednesday evening, after giving up hope of finding any more survivors. The rescue team had been attending a conference in Turkey and was therefore able to begin the search and rescue mission directly after the earthquake. By Wednesday, the team had found eight survivors.
Following last year's floods, Hungary has improved dams on the river Tisza. On 17 November, Kalman Katona, Minister of Transport, Telecommunications and Water Management, opened the embankment part of the dam system on the Hungarian-Ukrainian border. The Government has spent HUF 2.4 billion (USD 10 million) on reinforcing the Upper Tisza dam system, and next year a further HUF 5.4 billion (USD 22.5 million) will be spent on improving the dams. Hungary and Ukraine have also signed an agreement, which will make part of the HUF 100 million (USD 400,000) assistance package available for Ukraine to build a flood warning system in Subcarpathia.
The number of road accidents in Hungary this year has dropped. In the period from January to August this year, there were eight per cent fewer road accidents than during the same period last year. The number of deaths on the road has, however, only decreased by 2.1 per cent. Meanwhile, motorists using the M1 motorway between Budapest and Austria and the M3 Budapest to Miskolc motorway will have to buy weekly passes even if only using the motorway once. From January 2000, a weekly pass will cost HUF 1300 (USD 5.5), while monthly passes will cost HUF 2400 (USD 10) and a one-year pass HUF 22,000 (USD 90).
The Minister of Youth and Sports, Tamas Deutsch, last week held up a plane for half an hour at Ferihegy airport. Deutsch, on his way to the Central European Conference summit in Prague, noticed upon arriving at the airport that he did not have his passport with him. Deutsch was subsequently allowed to leave for Prague without his papers, and the plane was called back from the runway in order for the Minister to board. According to the Budapest Sun, Deutsch's trip was unscheduled, as he was filling in for the Prime Minister. The incident comes only weeks after a number of MALEV - Hungarian Airlines employees were fired after delays resulted in Hungarian officials arriving late for the state visit to Canada.
Budapest's mayor, Gabor Demszky, has proposed a 14 per cent increase of public transportation fares. If the City Council accepts the new prices, which were originally proposed by the Budapest Transport Company (BKV), a monthly adult travel card will rise to HUF 3900 (USD 16), while students would pay HUF 1270 (USD 5). The Finance Ministry had proposed a six per cent rise, but BKV said that, unless ticket prices are increased, it will have to cut down on the number of services. Demszky later said that public transportation in Budapest could collapse unless state funding to the capital in increased.
Despite recent price reductions by the Hungarian telecommunications company, MATAV, Hungarians are paying more than most in the industrialised world to use the Internet. According to a study by the Organisation for Economic Cooperation and Development, high local phone rates and high Internet connection fees could hinder an increase of Hungarian Internet users. There are about 650,000 Internet users in Hungary, and, although this could increase by almost 30 per cent in the next five years, this is largely due to Sulinet, which is free for students and teachers.
There were three Hungarian candidates for the World Sports Award of the Century in Vienna on Friday. Three-time Olympic boxing gold medallist Laszlo Papp said, "I think Muhammad Ali has the best chance to win, but I think the whole affair should not be taken too seriously." It was not known whether five-time Olympic swimming champion Krisztina Egerszegi would be present, but the all-time record goal-scorer in international football, Ferenc Puskas, said he would attend the event.
Paul Nemes, 19 November 1999