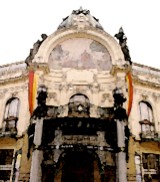 C E N T R A L E U R O P E A N N E W S:
Czech News Round-up
News from the Czech Republic
since 15 November 1999
---
CAROLINA,
Charles University Journalism Faculty
On 17 November, Mikhail Gorbachev, George Bush, Helmut Kohl, Margaret Thatcher, Lech Walesa and Danielle Mitterrand commemorated the 10th anniversary of the student demonstration in Prague which led to the fall of Communism. The guests were those generally thought to be responsible for the collapse of Communism and the establishment of democracy in the former Soviet bloc. Bush recalled his first visit to Prague on 17 November 1990, which, he said, had left a great impression on him, and said he also appreciated that the former Czechoslovakia had been able to create a military unit quickly enough to help the West during the Gulf War. That evening, Havel decorated all the guests with the Order of the White Lion, the highest state honor in the Czech Republic, to express gratitude for their great influence in dismantling the totalitarian regimes of Central and Eastern Europe. [Martin Rusek/Ondrej Maly]
Mikhail Gorbachev admitted he had wanted the reform Communists of the Prague Spring 1968 to rule Czechoslovakia in November 1989, but added that he had fully respected the citizens' will to support an independent opposition. His comments were part of the conference "10 Years After - on the Threshhold of the New Millenium," moderated by Timothy Garton Ash and attended by Mikhail Gorbachev, George Bush, Helmut Kohl, Margaret Thatcher, Lech Walesa, Danielle Mitterand and Vaclav Havel to commemorate the Velvet Revolution. But there seemed to be little agreement among the panelists, as President Vaclav Havel stated that there had been antipathy toward the reform Communists of 1968. Margaret Thatcher said people in former Communist countries had to learn to decide for themselves and take responsibility for their actions. Lech Walesa called for the creation of something similar to the Marshall Plan for the region, and said it was necessary for post-Communist states to unite, but Havel argued that nothing like the Marshall Plan was needed. Danielle Mitterrand's speech was about something else entirely: she said Europe was now threatened by another totalitarianism, not ideological, but commercial. [Martin Rusek/Ondrej Maly]
A replica of the statue of Sir Winston Churchill that stands in London's Parliament Square was unveiled in Prague on 17 November. The statue was placed in Winston Churchill Square in Prague's Zizkov district. Among the guests at the unveiling were, former British Prime Minister Baroness Margaret Thatcher, Czech Chamber of Deputies Chairman Vaclav Klaus and Churchill's grandson, Rupert Soames. [Iva Potrebova/Simon Dominik]
Although some 30 policemen of the former National Security Corps (SNB) involved in the brutal attack on student demonstrators on Prague's Narodni trida in 1989 have already been sentenced, their commanders are still free. Michal Danisovic, commander of the 17 November police activity, was sentenced in May to three and a half years in prison by a court in Tabor, however, he immediately appealed to the High Court in Prague. The date of his appeal has not been set. SNB unit commander Bedrich Houbal is in a similar situation, as he was sentenced to three years probation, but is awaiting a decision on his appeal. Miroslav Stepan, then Communist Party boss in Prague, is thought to be politically responsible for the police attack, and was connected to several people from the Interior Ministry, such as Alojz Lorenc, Frantisek Kincl and Karel Vykypel. All have been sentenced - not because of the attack, but for illegally persecuting dissidents before November 1989. While Stepan, Kincl and Vykypel served their terms and were released from prison, Lorenc refused to go to jail in the Czech Republic, using his Slovak citizenship after the division of Czechoslovakia. [Martin Rusek/Veronika Hankusova]
Signatories of Akce 99 (Action 99) want to open discussions about the events of 17 November 1989. Among the 74 signatories are Petr Cibulka, who leaked the unofficial list of secret police (StB) collaborators, Stanislav Stransky, chairman of the Association of Czech Political Prisoners and Antonin Dusek, head of the Civic Self-Defence Association. Signatories say the events of 1989 did not defeat Bolshevism in Czechoslovakia but rather allowed Communist Party and secret police leaders to simply move into top positions in the new regime. [Martin Rusek/Veronika Hankusova]
The ruling Social Democrats (CSSD) withstood efforts to reconstruct the government at a meeting of the leaders of the CSSD, the ODS, the Freedom Union (US) and the Christian Democrats (KDU-CSL) on 13 November. After one month of negotiations (a similar meeting was initiated by ODS 8 October), ODS Chairman Vaclav Klaus did not succeed with his idea for a super-coalition of all parties in Parliament except the Communists. The US and the KDU-CSL did not agree with the proposal, despite Klaus's offer that each of the four parties would have six members in a super-coalition government. The US and the KDU-CSL, together half of the "four-party coalition" (a joint electoral grouping with the Civic Democratic Alliance and the Democratic Union), did not succeed in persuading the ODS to withdraw from the Opposition Agreement to create a coalition. Prime Minister Milos Zeman did, however, promise certain changes, saying it was up to the Social Democrats to reconstruct the government with new ministers or independents. The two most likely victims of a reshuffle will be Health Minister Ivan David and Deputy Prime Minister Jaroslav Basta. And there was agreement on the date of the next meeting at the end of November, this time at the behest of Zeman. [Jakub Tronicek/Sofia Karakeva]
The ruling CSSD and ODS managed to pass their proposals for constitutional changes during the first reading of the amendments on 10 November. The CSSD says the future of these amendments relies on the validity of the Opposition Agreement between their party and ODS. If, by February, when the amendments will have their second reading in the Chamber of Deputies, the Opposition Agreement is no longer valid, there would be no reason to change the Constitution, said CSSD parliamentary club Chairman Stanislav Gross. ODS says the Opposition Agreement can remain valid only if the amendments are passed. The amendments would limit both the immunity for the President, senators, deputies and judges to correspond with terms of office and the possibility for the Chamber of Deputies to disband if three-fifths of deputies vote to do so. The amendments would also restrict how the President can grant amnesty and how a prime minister is to be named after elections. President Vaclav Havel said the proposal calls into question the meaning of the presidency and could jeopardize the country's future development and its integration into the EU. 120 deputies from ODS and CSSD were in favor of the amendments, while KDU-CSL and US were against. US parliamentary club Chairman Karel Kuhnl said the changes could represent the dismantling of the president's office, and KDU-CSL member Miroslav Vyborny said similarly that such limitations on presidential authority do not exist anywhere in the EU. The amendments will become valid if approved by the Senate, as the president cannot veto constitutional changes. If, however, the Senate rejects the amendments, the Chamber of Deputies cannot overrule it. ODS does allows that during the second reading, the amendments might be substantially changed. [Nikoleta Alivojvodic/Sofia Karakeva]
Prime Minister Milos Zeman promised on 12 November, after negotiations with Romany representatives, that the wall in Maticni Street will be taken down by the end of the month. Roma agreed to stop their protests but said they would renew them if the wall remained. Zeman also denied the government would buy the houses of white Maticni residents: "The Czech government will not be blackmailed," Zeman said. Gunter Verheugen, EU commissioner for European integration, met Romani representatives during his visit to Prague. He said the wall was not a racial, but a social problem, which had to be dealt with as soon as possible. [David Mirejovsky/Jakub Jirovec]
Chechen Foreign Minister Ilyas Akhmadov visited Prague on 14 November. Tomas Pojar, director of the Humans in Need Foundation which invited Achmadov, said the aim of the visit was to break the information blockade about the war in Chechnya. Achmadov met Antonin Murgas, head of the Russian office in the Foreign Ministry, Senators Daniel Kroupa and Michael Zantovsky (both of ODA), deputy Michal Lobkowicz (US) and a representative of the Office of the President. The Russian Federation sent an official protest, accusing the Czech Republic of supporting terrorists, and the Russian Embassy in Prague also warned that Russia might freeze relations. [1Tomas Havlin/Jakub Jirovec]
On 10 November, the International Commerce Court of Arbitration issued in Stockholm a preliminary injunction on the arbitration claim of American company Central European Media Enterprises (CME ), 99 percent owner of the Ceska nezavisla televizni spolecnost (Czech Independent Television Company, CNTS), against Vladimir Zelezny, majority owner of TV NOVA and license holder for CET 21. The first arbitration ruling is in favor of CME, the NASDAQ-listed company controlled by cosmetics heir Ronald Lauder. CME financed the launch of the TV NOVA's broadcasting in 1994 and operates CNTS, which provided all services for license-holder CET 21. However, on 5 August, Zelezny ended cooperation with CNTS and started using the services of companies AQS and Czech Production 2000. According to the preliminary injunction, Zelezny should restore CNTS to its prior position as the exclusive service-provider for TV NOVA. Zelezny, however, held a press conference on 11 November to announce he would not respect the injunction, saying the case between him as a person and CME are not connected to CET 21. He also said that, by carrying out some of the injunction's demands, he would be breaking Czech laws. In its quarterly report, CME said it would ask the Czech courts to make CET 21 comply with the injunction, because the Czech Republic is one of the signatories of the 1958 Convention on the Recognition and Enforcement of Foreign Arbitral Awards. Zelezny said, however, that the Convention states that only final decisions, not preliminary injunctions, could be enforced. The arbitration court's final decision is expected in about six months. Observers say that Zelezny's mockery of the preliminary injunction might negatively influence the court. [Michaela Kleckova/Jaroslav Sauer]
Members of the ruling CSSD disagreed with Prime Minister Milos Zeman's decision to put Health Minister Ivan David's future (which almost certainly includes his exit from office) in the hands of the Chamber of Deputies. They criticized Zeman for trying to transfer his responsibility for the government to the Chamber of Deputies, and they asked him to resolve the problem. Their stance mirrored that of opposition deputies last week. Zeman said on 12 November that he would ask the Chamber of Deputies to vote on 30 November whether David should continue in office. Zeman said David should have the right to defend himself in the Chamber of Deputies. [Radka Kohutova/Daniela Vrbova]
NATO has been suffering from the victory syndrome, said Mikhail Gorbachev during his visit to Prague. He said it was dangerous that NATO doctrine now allows intervention anywhere in the world without consulting the UN. Gorbachev said neither the USA nor Russia could be ignored. The importance of Russian integration into a common defense system was also supported by Helmut Kohl. [Marin Rusek/Daniela Vrbova]
Former Freedom Union deputy Marie Machata joined the Czech National Social Party (CSNS) on 15 November. CSNS thus gained its first representative in Parliament's Chamber of Deputies and party Chairman Jan Sula is continuing to invite other politicians to join, though he has refused to name his targets. Some experts have called Machata's behavior unethical, while Machata says she does not feel she has betrayed Freedom Union voters. [Petra Kovacova/Daniela Vrbova]
Prime Minister Milos Zeman visited Berlin on 10 November, where he participated in celebrations marking the 10th anniversary of the fall of the Berlin Wall. Zeman also took part in a discussion with Czech, Slovak, Hungarian and Polish leaders called "New European Peace Order." All the leaders agreed that their common interest was to join the European Union together, and as fast as possible. While Polish Prime Minister Jerzy Buzek and Hungarian Prime Minister Viktor Orban repeated that they wanted to join the EU in three or four years, Zeman said the Czech Republic stressed fulfilling EU criteria more than a timetable. Zeman also talked with German Chancellor Gerhard Schroeder and was present at the opening of an exhibit of the Polish Solidarita Movement. [Lubos Kratochvil/Jakub Jirovec]
After brief discussions, the government passed a new budget proposal for 2000. Their proposal projects income of Czech korunas (CZK) 588.1 billion and expenses of CZK 630 billion. Although the Government did not restructure its previous budget proposal, the proposed deficit rose by CZK 2.2 billion. Finance Minister Pavel Mertlik said approval of the budget proposal was strictly a political question. As opposition parties recommended, the Government is not including CZK 7 billion of income from privatization among income in the budget. The total deficit of public finances will in fact be much larger, because the Government is not including local budgets nor the budgets of certain state institutions, such as the Consolidation Bank. [Jakub Trnka/Zuzana Janeckova]
Thirteen photographers of the Mafa photo agency staged an exhibit called "Ten Years in Prague's Carolinum" to recall the past 10 years. The oldest black-and-white pictures show the atmosphere during the changes of 1989. The photographs then follow the evolution of Czech democracy up to today. A few pictures also touch on contemporary wars in Europe. The exhibit will last until January 5. [Simon Dominik/Zuzana Janeckova]
In a Czech Television poll, Vlasta Burian was voted the Czech comic of the century.
Exchange Rates
As of 19 November 1999
currency
Czech
korunas
(CZK)
1 US dollar
34.875
1 British pound
56.686
1 German mark
18.545
1 euro
36.270
---
CAROLINA, 19 November 1999
A service of the Charles Univesity Journalism Faculty, Prague
---
This news may be published only with attribution to CAROLINA. Subscription is free.
Comments and remarks are appreciated. Please send them to the address: CAROLINA@mbox.fsv.cuni.cz.
To subscribe to CAROLINA news, send an e-mail message to the address LISTSERV@cesnet.cz. The text of the message for subscription to the English version must be: SUBSCRIBE CAR-ENG First name Last name or for the Czech version SUBSCRIBE CAR-CS First name Last name
To delete your subscription from the list of subscribers, send the following message to the address LISTSERV@cesnet.cz: SIGNOFF CAR-ENG or SIGNOFF CAR-CS.
We ask you not to send automatic replies to our list. You can temporarily stop receiving Carolina by sending the command: SET CAR-ENG NOMAIL All Listserv commands should be sent to the address: LISTSERV@cesnet.cz
Please, don't send the commands SUB, SIGNOFF, NOMAIL etc to the address CAR-CS@listserv.cesnet.cz or CAR-ENG@cesnet.cz!
Past issues of Carolina are available at the address http://cuni.cz/carolina.