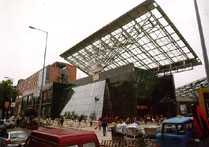 Westend City Center

B U D A P E S T:
Budapest's Second City
---
Andrew Princz
Last week in Budapest, Canadian and Hungarian development partners inaugurated the opening of the Westend City Center, launching the first phase of what will be Central Europe's largest multi-use shopping center, hotel and entertainment facility. The 80,000 square meter, USD 200 project was undertaken by Canadian-based international real estate developers TrizecHahn Corporation and the company's local Hungarian partners, TriGranit Development Corporation.
TrizecHahn Corporation, which owns over USD 8 billion in real estate assets and market capitalization, has recently been shifting its focus from North America to European development projects.
"We predict that the growth for consumer and entertainment spending is much greater here in Europe," said Chairman and CEO of TrizecHahn Corporation Peter Munk in Budapest shortly before the Center's opening. "The market is relatively saturated in North America, and here, it is totally unexplored."
The Westend City Center is situated on prime real estate in downtown Budapest next to the historic Western railway station designed by the noted French architect Gustav Eiffel. The 13-month construction period for erecting the facility ensured a feverish pace.
"This development was very fast," commented Managing Director Willard L'Heureux of TrizecHahn Corporation's international division. "In North America, this sort of thing would take you two years to do."
L'Heureux noted that constructing a complex of this magnitude on a tight deadline was made possible in part by the successful cooperation with city officials and the ease of receiving permits from local governments. In the coming months, construction will continue on the office portion of the development and the associated hotel facility, to be operated by Hilton Hotels Corporation, which are scheduled to open in May 2000.
Developers estimate that the construction, conceptualized merely two years ago, mobilized over 200 companies and employed over 25,000 workers. It did not pass without at least one major accident, however, as a worker lost his life when a crane collapsed on the site.
When operational, the Westend City Center promises to act as a model for similar real estate developments being undertaken by TrizecHahn in other West and Central European locations, including London, Bratislava and a similar urban entertainment facility planned for Frankfurt.
While the prime location of the site and the 100 percent occupancy rate of the shopping facility, which will include 400 retailers, is a positive indication, only in the coming months and years will it become clear if the Hungarian consumer market is strong enough to justify such a large-scale facility.
"We will have to see," said Victor Kevehazi, a partner at KPMG Hungary, specializing in the real estate market. "As the Budapest market becomes more and more competitive, shopping malls are focusing on specialized services - exhibitions, music and entertainment - to attract customers."
Attracting customers is just what the Westend City Center will need to do if it is to avoid the fate of an equally well-situated (adjacent to Red Square) development project completed in January 1998 in Moscow. Steps away from the Kremlin in central Moscow, prospects for the location must have seemed equally exciting. Some claimed, however, that goods at Moscow's OAO Manezh Square mall were too pricey for the pocketbook of the average Russian consumer. The USD 350 million project lost money last year and became embroiled in debt.
Munk, however, is confident in the prospects of the Budapest development. "Budapest has the economic structure, because Hungary is becoming a part of the European Union. Russia does not have that. Budapest is one of the largest tourist traffic areas, because of its geographic location, which you do not have in Moscow."
Budapest in particular, and other Central European cities in general, have witnessed a burgeoning of shopping mall facilities in the past number of years. Developers have been challenging European consumer buying patterns, which have traditionally favored smaller retailers.
"Retailing in Hungary will be fairly saturated with the opening of the Westend mall," commented Patrick Kirwan, development director for Duna Plaza Kft, a competing mixed-use complex in Budapest, "but I am confident that there will be enough consumers for the market to bear."
While developers are looking at the long-term prospects of greater economic prosperity for the region as Central Europe accedes into the European Union, the purchasing power of the Czech Republic, Hungary and Poland today remains well below the median of their European counterparts.
According to 1998 figures compiled by the Economist Intelligence Unit (EIU), the GDP per-capita in Hungary was USD 7400, compared with France, Germany or Belgium, which each exceeded USD 20,000.
The Westend Center's ribbon-cutting ceremony was attended by Hungarian Prime Minister Viktor Orban, who recently returned from a state visit to Canada. During this trip, Orban's government signed documents with TrizecHahn Corporation pertaining to the exploration of the development of two additional major infrastructure projects: a high-speed train link between the Westend City Center and Budapest's Canadian-developed Ferihegy Airport; and Hungary's new National Theater.
Hungary's National Theater and a proposed new metro line in Budapest have been the subject of a bitter dispute between the central government and the Mayor of Budapest in recent months. While the city is still undertaking a lawsuit against the central government, the mutual interest in developing Budapest's infrastructure may be a positive impetus to bring together the two parties. The cooperation of both the central government and the city of Budapest has proven to be key in the development of infrastructure projects.
Budapest's mayor, Gabor Demszky, was optimistic. When asked about future cooperation with TrizecHahn in a potential tender for the projects, he responded, "There were tenders, and there will be tenders, for the theater as well, but they [TrizecHahn] can win it, I think. If they really want to build the theater, they will submit a good proposal."
Andrew Princz, 11 November 1999
Photo Credits: Bela Szandelsky and courtesy photo
Click HERE to read this week's interview with the architect of the Westend City Center, Joszef Finta.
Visit Andrew Princz's website