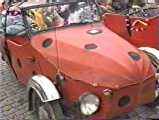 Velorex: The King of Speed

A WESTERNER'S (SURVIVAL) GUIDE TO
THE CZECH REPUBLIC, PART XII
The Czech Dilemma,
or the Merits of Honesty
---
Tomas Pecina
Back in the 1970s, when Czechoslovak culture was perfectly "normalized" and regimented by pre-, post- and self-censorship, it was next to impossible to make a political statement on the big screen. Allegory, which had augured in the Prague Spring of 1968, was banned, and authors had to resort to the most out-of-the-way and obscure approaches to get their points across. The best works of art officially published between 1970 and 1989 were typically a bizarre combination of pro-regime libations, escapism and philosophy.
The comedy Vrchni, Prchni! (Run, Waiter, Run!), produced by Prague's Barrandov Film Studios in 1980, ranks among the most popular Czech movies of all time. Its story-line is rather simple: bookstore manager Dalibor Vrana, an elegant, well-read and cultivated gentleman in his late thirties, meets his former high-school classmates at an alumni party, and, confronted with seemingly much less capable, but now more successful colleagues, he finds himself a failure, and his life of drudgery under a state-owned employer for a measly salary utterly unattractive.
He soon invents a way to come by some extra income and make his dreams come true: dressing up like a waiter, he cashes in money from patrons at restaurants. He trades in his old Velorex (a motorized tricycle with a makeshift textile body, see picture) for a flashy Russian car and, for a short time, he lives a life of relative luxury. Finally, after some chasing, Vrana is arrested, charged and sentenced to jail, where he is reunited with his more successful former classmate and inspirer, whose underhanded dealings have also been uncovered by the police.
The movie, on the face of it, is a docile combination of communal satire and morality. It is well written (the author of the screenplay was Zdenek Sverak, who would later win an Oscar for his script of Kolya), loaded with situation humor, and exquisitely acted. However, there is more to it.
Vrana is portrayed as a hopeless womanizer who, besides having two children from his current marriage, has to pay alimonies for two or three other offspring. Thus, everything was made to comply with the canon of the official morale: it was his fault that he was pauperized – had he not lived immorally (ie divorced), he could, after a couple of years of heavy saving, afford the car and perhaps some other luxuries without robbing other people.
And this was the central political issue of the 70s and 80s: people who did everything they were required to by the Communist authorities, people who worked hard in their jobs, took part in official ceremonies, such as May Day parades, and voted for the Communist-nominated (ie the only) candidates in parliamentary and communal elections every four years, could still afford only a fraction of the consumer goods the citizens of the neighboring Western states, Germany and Austria, could purchase.
People were voluntary slaves, but their willingness bore them little fruit.
Obviously, Vrana's approach did not work, but what did? In this indirect sense, Vrchni, Prchni! was an explosive, revolutionary movie, a clandestine message, a precursor of the upcoming consumer revolt.
Nineteen years on, the changes to Czech society have been far-reaching: the market economy has eliminated shortages and formerly ubiquitous waiting in lines and on waiting lists, everyone can travel abroad, and virtually unlimited freedom of expression is granted to all. People are healthier, live longer and can enjoy a significantly better environment.
Nonetheless, as the opinion poll figures show, the ordinary Czech is not yet done with the Vrana question.
Under Communism, practically everything had only one owner: the state, represented and usurped by the Communist Party. And the state was also the largest, institutional criminal.
Following the privatization that took place in the 1990s, the state ceased to be an owner, and it is no longer a criminal. Instead, as more and more people feel, its current political representation has transformed from a prosecutor into a protector of criminals, many of whom have acquired former state-owned property illicitly, bribing privatization's decision-makers or stripping the rightful owners, typically minority shareholders, of the enterprise's or fund's revenues and assets.
Many Czechs have come to the conclusion that, for them, the situation presented in Sverak's movie has not changed much. The old dilemma is back; the only difference being that present-day Vranas, instead of ending up in jail, become affluent and can boast of their privatization (incorrectly referred to as entrepreneurial) success and liaisons with top-ranking politicians. Or, in other words, in Vrchni, Prchni!, the recommended way is impecunious honesty; in today's political situation, it is definitely the other way that pays off.
Which is very bad news indeed for the future of the Czech Republic.
Tomas Pecina, 18 October 1999