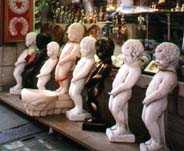 Aiming to please Brussels

E U U P D A T E:
Newslinks:
Czechs Criticised Strongly Again by EC

---
Robert Young
Links to a selection of articles and resources dealing with Prague's lacklustre drive to attain EU membership.
The European Union
Straight from the source: a detailed account of Czech-EU relations from the European Union itself.
National Programme for the Preparation of the Czech Republic for Membership in the European Union
Straight from the Czech government: the Czech plan for EU integration.
Center for Economic Research and Graduate Education, Charles University
An overview of Czech-EU relations from Charles University, Prague.
Emerging Europe Research Group
An article about President Havel's meeting with European Union ambassador Romiro Cibrian. Havel warns that Czechs may not know how serious the implications of the European Commission's critical report really are (you'll need to scroll down for this one).
The Regional Environmental Center for Central and Eastern Europe
An extensive look at what must been done with Czech environmental policy in order to bring it in line with the EU's policies.
Energie Euroreg
A look at what the Czech Republic must do with its energy policy in order to enter the EU.
Radio Free Europe/Radio Liberty
This site is rather general, with only passing information dealing specifically with the Czech Republic, however it does have good background information.
New York University
An article analyzing the Czech-Slovak customs union and the EU's reaction to it.
"EU Candidates and Body Put To Test," Central Europe Online
An analysis of the European Commission's Report of candidate countries' progress. Once again, it's rather general, with only general comments about the Czech Republic.
"Lessons to learn from report card," The Prague Post
An article detailing the nervous expectation in Prague the day before the European Commission's Report was due out.
EUBusiness.com
Statistical information on the Czech Republic, eg demographics, economic indicators, government numbers, etc., as well as links to other related articles.
This selection of links was prepared by:
Robert Young, 15 October 1999