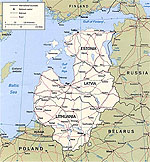 C E N T R A L E U R O P E A N N E W S:
News Review for Estonia
All the important news from Estonia
since 2 October 1999
---
Lithuanian President Valdas Adamkus made a state visit to Estonia early in the week. The focus was clearly to promote bilateral relations and Baltic co-operation. There was lots of feel-good talk about the sometimes strained ties between the two countries, but the two presidents - Adamkus and Estonian President Lennart Meri - stressed the need to improve ties and re-iterated their support for strengthened Baltic co-operation. Adamkus also met with Prime Minister Mart Laar and Riigikogu Speaker Toomas Savi. On the second day of the state visit, Adamkus also visited Tartu and the Baltic Defence College.
Foreign Minister Toomas Hendrik Ilves had a busy week travelling, first attending the UN General Assembly session in New York, where he preached institutional reform for the oft-paralysed international body. He also urged fiscal restraint and austerity measures for the UN and criticised the use of the veto by the Permanent Members of the Security Council.
Later, Ilves travelled to Ukraine. While in Kyiv, Ilves met with Prime Minister Valery Pustovoitenko, Foreign Minister Borys Tarasyuk and others. Accompanied by a business delegation, Ilves also travelled to Lviv and spoke at Ivan Franko University.
But the biggest news of all was a press conference conducted overthe Internet that failed to happen, as the contracted IT people didn't come through - much to the embarrassment of Foreign Minister Ilves.
The commanders of the three Baltic militaries met in Tallinn. Colonel Urmas Roosimagi, the acting head of Estonia's Defence Forces, hosted Colonel Raimonds Graube (Latvia) and Brigadier General Jonas Kronkaitis (Lithuania). Various co-operative projects were discussed, ranging from the Baltic Defence College in Tartu, Estonia to a proposed new joint naval training centre in Liepaja, Latvia. The joint airspace monitor BALTNET was also discussed, as its headquarters will open in January 2000 in Lithuania, and the infrastructures of the three countries are required to be fully ready by the end of 2000.
Defence Minister Juri Luik made a visit to Britain during the week. Besides a few meetings with top-ranked officials and visits to various institutes and conferences, Luik also stopped at the School of Slavonic and East European Studies (SSEES) and gave a lecture on the Baltic Sea region.
Members of the Riigikogu Foreign Affairs Committee, led by Andres Tarand, are visiting Poland. There, they met with their counterparts in the Sejm to discuss NATO and EU integration.
The Foreign Ministry also announced that German Chancellor Gerhard Schroeder will be delaying his trip to Estonia, as well his planned trips to Latvia and Lithuania. There was no mention of when the trip, originally scheduled for later this year, would be rescheduled.
Estonia's ambassador to the Czech Republic, Mart Laanemae, presented his credentials to Czech President Vaclav Havel. This comes as Estonian President Meri announced a visit to Prague next year. Ambassador Laanemae, who resides in Vienna, also met with Foreign Minister Jan Kavan. The Estonian Embassy in Prague is headed by Charge d'Affaires Riho Laanemae (no relation). The Embassy is at Na Kampe 1, if anyone's interested.
The reformed ex-Communist Estonian Social Democratic Labour Party stressed its push towards "normal" European socialism. Its leader, Tiit Toomsalu, said that "Marxist-Leninism" has been out of the Estonian vocabulary since the late Soviet days and that Das Kapital is making a come-back. The party has scant representation in the Riigikogu, as its members ran on a joint list with the Russophone United People's Party.
The Tallinn City Council, in its last session before the 17 October local elections, passed a EEK(Estonian kroons) 101.8 million budget cut. It passed unanimously, but the large opposition Reform Party bloc abstained. It stated that the cuts were not enough and that a budget gap of EEK 30 million or more will develop by year's end.
The Interior Ministry is kicking off a campaign to raise voter interest in the coming local elections. In fear that turnout will fall below 50 per cent, the Ministry has invested money to attract voters - especially younger voters - to the polls on 17 October.
Power company Eesti Energia is up in arms over unpaid power bills. It stated that some 100,000 clients have not paid their bills, many for up to six months. Sadly, they noted that this even includes wealthy businessmen. - Since the metres are located in individual homes and clients pay as they read their metres, for many the power bill is the last thing looked at. While in Estonia, Head of the Russian Unified Electric System and consummate Kremlin insider Anatoli Chubais, promised that there will be no disruption in power due to Y2K. He also talked about other things, such as Chechnya and NATO. He stressed that Russia is against NATO enlargement but noted that Estonia is a sovereign country and can do as it wishes - but so is Russia.
More accusations of questionable behaviour by former Defence Minister Andrus Oovel, currently the chairman of the shrinking Coalition Party. The ex-Minister has been given an all-expenses paid six-month training course at the British Military Academy. Reports indicate that Oovel applied for the spot just at the end of his tenure (right before the elections), though Oovel said he was offered the free ride. Oovel has been heavily criticised for his behaviour, the most significant criticism over the past year came on account of his two-week "paid holiday" to the United States just before the March parliamentary elections. As Defence Minister, Oovel managed to visit every US military academy situated in a scenic area such as Colorado and upstate New York... The Norwegian Storting speaker, Kirsti Kolle Grondahl, visited Estonia. Grondahl met with Riigikogu speaker Toomas Savi and various parliamentarians and government officials. Grondahl reiterated Norwegian support for Estonia's NATO bid.
The IMF announced that Estonia's 1998 GDP per capita is the highest in the Baltics at USD 7607 - more than a USD 1000 higher than Lithuania and about USD 2000 higher than Latvia and Romania. This is still far behind Slovenia's GDP per capita of USD 14,305 - which is getting quite close to Greece, if it hasn't already caught up.
CPI in September grew by 0.2 per cent, the first real jump in months.
The recording industry has admitted they can do nothing about the overwhelming problem of CD and video piracy in Estonia. A significant majority of the music purchased in Estonia is pirated. Shockingly, even Estonian musicians purchase pirated CDs, which come at much lower prices (and of course quality). (see this week's Amber Coast for more on piracy).
A poll showed that if there was a direct presidential election in Estonia, it would be a close race. The poll showed that Riigikogu Foreign Affairs Committee chairman Andres Tarand leads with 17 per cent support, followed by leader of the centre-left opposition Centre Party Edgar Savisaar at 15 per cent. Riigikogu speaker Toomas Savi is next at 11 per cent. No one is running away with the stats, and some feel that the current campaign by the Moodukad party to push Tarand for President will backfire, - as the tabloids have been running bits about drunken moments by the elder politician.
Finally, business daily Aripaev celebrated its 10th anniversary.
Exchange Rates
As of 7 October 1999
currency
Estonian
kroons
(EEK)
1 US dollar
14.59
1 British pound
24.11
1 German mark
8.00
1 euro
15.65
---
Prepared by Mel Huang, 8 October 1999
---
News Sources
Radio Free Europe/Radio Liberty