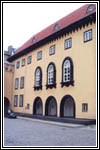 T H E A M B E R C O A S T:
Modern-day Pirates
---
Mel Huang
I recall lectures on international law from my university days, addressing crimes considered so transnational that co-operation was not even questioned - crimes such as currency counterfeiting and piracy on the high seas. However, it is the modern-day pirates - those who deal in music, video and software - who seriously deserve transnational attention.
With advancing technology, the process of producing pirate copies of intellectual property becomes easier and cheaper. Since this inevitably causes the genuine producers to hike prices due to lost revenue, the lower prices of pirates gain a larger market, and the downward spiral continues.
For countries such as Estonia, still involved in economic and social transformation, piracy is a major problem. However, it still receives too little attention - unless international giants such as Disney and Microsoft voice their discontent. Many people just think about the fact that the product they are purchasing is cheaper this way and do not consider what happens to the artists and creators on the other end. This is one aspect of the cut-corners attitude which prevails in many transitional countries, as well as in those well-to-do countries that exacerbate the problems of their transitional neighbours.
Recently, members of the recording industry in Estonia stated that the piracy problem is completely out of control here. One executive suggested that 60 to 70 per cent of the music and videos on the market are pirate copies and that his firm loses a quarter of its potential revenues due to piracy. Another executive estimates the industry's annual loss to piracy at EEK (Estonian kroons) 500 million (about USD 33.3 million).
The computer software market is mired in perhaps a more serious problem. Most experts believe over 90 per cent of software in Estonia is pirated somewhere along the line. This ranges from simple computer-to-computer copying or re-installation to outright piracy of software on CDs and disks. However, software piracy has an added danger: viruses. Often, the pirated versions of popular software carry brutal viruses that ravage the international computing community as they spread like wildfire through the Internet. This is why when high-profile viruses, such as one known as "Melissa," hit the world, computers in countries such as Estonia take a hard jolt. Even the Taxation Department was partially disabled due to one such virus outbreak. And, of course, the rate of infection was high in Finland as well, as many Finns purchase cheap, pirated software from Estonia.
This latter point is related to another aspect of the problem: supply and demand. An added burden to those fighting piracy in Estonia is, sadly, Finland. There are countless busses that run from the ports to the infamous Kadaka Turg (Kadaka Market) in Tallinn, a free-for-all flea market. The open market is visited daily by thousands of Finns, eager to pick up cheap music, software and clothes - all mostly illegal imitations.
Once, at an EU-integration talk in Tallinn, a high-ranking Finnish diplomat of the European Commission Mission in Estonia complained about piracy and its availability at Kadaka Turg. Frankly, that is like the English complaining about cheap drinks while in Calais.
A survey quoted by local recording industry executives suggests that 99 per cent of the 1.2 million CDs purchased by Finns in Estonia last year were pirated copies. The EU, especially Nordic members, cannot take a high-and-mighty approach to the piracy problem in the Baltics without some self-examination, since they are a primary cause of the problem's exacerbation. Supply and demand is a concept learned at a very early stage, even in Brussels and Helsinki.
Of course, that is not to absolve the blame of local suppliers and consumers. In Estonia, the proliferation of pirated CDs is baffling. In various parts of Tallinn, a large number of people gather to trade CDs. However, at most of these gatherings, it is the pirates with their hundreds of CDs on display, who overwhelm honest traders. One such location is even in the direct line of sight of the headquarters of the Security Police!
To publicly scoff at pirated copies could result in some mischief being done to the outspoken anti-pirate consumer. It is even more shocking to see well-known musicians in Estonia themselves frequently purchasing pirated music. Except for seizures, the very infrequent raids usually produce little result, since the public dealers can easily claim they are just resellers and do not know the original source of the CDs. The authorities, already not very active in dealing with the situation, also have their hands bound by ineffective legislation.
Until there is a sincere will to deal with this problem in Estonia - both politically and among authorities - it will continue to grow. Finnish tourists will continue to purchase more pirated copies, as will local consumers. Until the supply side is controlled by legislation and enforcement, the solution to this problem will remain elusive.
Mel Huang, 7 October 1999