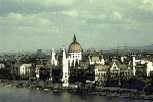 C E N T R A L E U R O P E A N N E W S:
Hungarian News Round-up
News from Hungary since 20 August 1999
---
Paul Nemes
Hungarian President Arpad Goncz and Prime Minister Victor Orban gathered in Kossuth Lajos Square outside Parliament on 20 August for the official ceremonies honouring Szent Istvan (St Stephen). The Hungarian government is planning an ecclesiastical summit in Budapest in the year 2000 to mark the 1000th anniversary of the Hungarian state. The founding of the Hungarian state is considered to have taken place in the year 1000 when St Stephen accepted Christendom to become Hungary's first Christian king. Hungary's last big celebration was in 1996, when the millecentenary of the Hungarian conquest was commemorated.
Also on 20 August, ten thousand supporters of the Hungarian Life and Justice Party (MIEP) from all over Central Europe, including speakers from Romania, Slovakia and Yugoslavia, gathered in Budapest demanding a UN-supervised referendum on Hungary's re-annexation of northern Vojvodina to prevent "another genocide in the area." At the rally, which was said to have been orderly and in accordance with "its serious sentiments," MIEP President Csurka proclaimed that "nothing else can ensure the safety of Hungarian lives based on our experience of the Yugoslav situation." Political analysts say that MIEP, a parliamentary party with about five percent support, is extremely isolated in its views. Foreign Minister Janos Martonyi rejected Csurka's "irresponsible proposals," saying that the Hungarian Government "does not want to change the borders but the nature of borders." Prime Minister Orban later stated that border revisions do not figure in the government's programme in any way. Western governments have somewhat reluctantly considered a less radical idea supported by Budapest and Hungarians in Vojvodina, which would see a referendum held on Vojvodina's autonomy. The Hungarian government have gone to great lengths to reassure its neighbours that Hungary is not seeking territorial revisions by including such promises in bilateral treaties. However, the Hungarians in Yugoslavia have been largely left out of these bilateral treaties.
Speaking at the inauguration of the new Office for Hungarians Beyond the Borders, Prime Minister Orban said that "all the citizens of Hungary and the Hungarians beyond its borders are members of one single and indivisible nation." Orban went on to say that his government "cannot accept anything less than a guarantee that Hungarians living beyond our borders are granted the full opportunity to education and cultural fulfillment" in their mother tongue. Trying to resolve the situation of Hungarians beyond the country's borders has been one of Hungary's main foreign policy aims since the fall of Communism. Hungary's first freely elected Prime Minister after Communism, Jozsef Antall, declared himself to be the Prime Minister of 15 million Hungarians in spirit, referring to the approximately five million Hungarians outside the country's borders.
The trend that has long been worrying Hungarians continues after the population of Hungary experienced its sharpest fall since the Second World War. After a decrease of 48,000, the population is now only 10,068,000. Budapest's population is now down to 1,837,000 after a drop of 26,000. Even though the number of births has been decreasing since the 1950s, the decrease in population only began in 1984. While the birth-rate reached its low point last year, the trend for number of deaths has been the reverse. Demographer Attila Molnar said that, ironic as it may sound, unemployment has improved people's health. Now that there are fewer jobs available, people cannot hold several jobs at one time. In comparison to the rest of Europe, though, Hungary's death rate is still high.
The Prime Minister said on 22 August that Hungary has reached the stage of preparedness for accession to the European Union that Spain, Portugal and Greece had reached when they joined the EU. Orban made these comments on German radio. With the principal task of promoting Hungary's European integration, Gyorgy Osvath was appointed Hungary's ambassador extraordinaire by President Arpad Goncz. Osvath, who left Hungary in 1956, is an economist and attorney and also President of the Hungarian Association of the Knights of Malta. Between 1990 and 1994, he was personal advisor to prime ministers Antall and Boros.
Victor Orban was scheduled to make an unofficial visit to Slovakia. The Prime Minister was due to hold unofficial talks with his Slovak counterpart Mikulas Dzurinda in Madarasz on 27 August. After being invited by Slovak President Rudolf Schuster,President Arpad Goncz will also make a two-day official visit to Slovakia. It was hoped that the visits might ease tension over the Language Law passed by the Slovak Parliament in June. Polish Foreign Minister Bronislaw Geremek was also due to visit Hungary between 27 and 28 August.
Following the devastating earthquake in Turkey, Hungarian rescue teams, who saved the lives of eight people, returned home on 22 August after the Turkish government called off the search for further survivors. Hungary's senior consul in Istanbul said that six Hungarian students who were believed to have disappeared in the earthquake were safe.
Cabinet spokesman Gabor Borokai has stated that the Cabinet does not intend to change its current practice of not taking literal minutes of its sessions. The comments follow ombudsman Laszlo Majtenyi's - who is in charge of data protection - request that the Justice Minister and the Head of the Prime Minister's Office initiate legislation on documenting cabinet meetings. No minutes or sound recordings have been taken of cabinet meetings have been since June 1998. After requesting a memo of the 24 August cabinet meeting, the Hungarian daily Magyar Hirlap discovered that the document will be unavailable for 50 years.
According to the Central Statistics Office, Hungary's retail sales rose by 5.4 percent year-on-year in June, while retail sales in the firs t six months of 1999 rose by 5.6 percent. Sales for June amounted to HUF 350 billion, bringing the six-month total to HUF 1,808 billion.
Swedish home furnishing company Ikea opened its second superstore in Hungary on 25 August. Laszlo Reiter, Managing director of Ikea Magyarorszag Kft, said that the USD 19 million store in Dudaors will be Ikea's 14th store in the region. Budaors, on Budapest's outskirts, was chosen because of its location at the junction of the M7 and M1 motorways, making the store easily accessible for motorists heading to Vienna and the Balaton. The new store is double the size of the other Budapest store, which was the region's first.
Hungary's deteriorating trend of public sector deficit continued in July, reaching 90 percent of the full-year target. This has prompted leading analysts to say that the government has virtually no chance of meeting its year-end goals. Zsolt Papp, of Warburg Dillon Read in London, said that "unless they [the Hungarian government] introduce a second round of spending cuts, it is difficult to see how they are going to meet their four percent [of Gross Domestic Product] deficit target. Finance Minister Zsigmond Jarai has said that the Hungarian government must sustain economic growth next year, even at the expense of smaller than expected budget savings. Jarai stated that "more drastic budget cuts may carry the danger of driving the economy into recession. Analysts have said that Hungary's economic goals in the year 2000 draft budget show a lack of fiscal ambition and fail to address problems that need to be resolved.
UNESCO is considering listing Hungary's Hortobagy National Park as a protected site under its World Heritage program. There are presently four such UNESCO sites in Hungary: The Benedictine Monestary of Pannonhalma, Buda Castle and bank in Budapest, the Aggtelek Caves and the village of Holloko. There has recently been much worry about the effects of EU membership, especially on farming and the countryside. If current farming methods, which in Central Europe are more traditional than in Western Europe, are replaced by methods used in the EU, it is feared that the ecosystem and the wildlife of Hortobagy will suffer.
The ongoing dispute between Hungarian State Railways (MAV) and the Free Union of Rail Workers (VDSZSZ) seems to finally have come to a close. MAV had initiated criminal proceedings against VDSZSZ after the union distributed leaflets warning of rail traffic chaos unless an agreement on wages was reached before the 26 August strike deadline. The union, however, canceled its planned strike after MAV and VDSZSZ agreed on a wage increase late on 25 August. It would appear as if MAV have emerged victorious from the dispute as it did not seem that the VDSZSZ would have been able to organise an effective strike. The agreed pay increase will cost MAV no more than HUF 100 million, which is roughly what a one day strike would have cost.
Paul Nemes, 27 August 1999