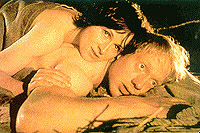 K I N O E Y E:
The Wild Central European West
Stefan Ruzowitzky's Die Siebtelbauern
---
Andrew James Horton
Hailed as the best German language film "since the halycon days of Rainer Werner Fassbinder," Stefan Ruzowitzky's Die Siebtelbauern (The Inheritors, 1998) has won a string of awards and taken America by storm. Now his "Alpine western" has opened in the UK.
When Hillinger is killed by a strange and taciturn woman, village life is suddenly turned upside down. In a bitter and ranting will, the old farmer badmouths his peasants and then proceeds to leave them all his possessions, his house and - most controversially - his land in the belief that they will end up beating each other to death over it. The bloated farmers of the village have no idea whether to be amused or outraged at the preposterous suggestion of peasants owning land.
Any idea that it might be a joke soon vanishes as the newly empowered farmhands seriously take on the idea of being landowners, and the farmers are horrified as a centuries-old social order starts to become subverted. It is not long before the caste disputes take a decidedly nasty turn. Meanwhile, the motive for old Hillinger's murder and the identity of his silent murderess remain tantalisingly unsolved.
After a jerky and confusing start, Die Siebtelbauern,which is set in the 1930s, settles down to become a captivating and well-paced story, with an eye for detail. However, to describe it as the best German-language film since Fassbinder - as the Village Voice in America has done - is clearly over the top. The critic in question clearly missed last year's Austrian hit, Michal Haneke's violently existentialist Funny Games (Click here for Kinoeye's review. Whereas Die Siebtelbauern is merely a worthy addition to a seemingly endless list of good films in the world, Funny Games is a likely to become an important reference point in cinematic history.
Further interesting comparisons can be made with another recent Central European "western" - Vladimir Michalek's Je treba zabit Sekala (Sekal Has to Die, 1998). (Click here for Kinoeye's review). Aside from being new takes on the same trusty American genre, transposing the Wild West into the Alpine foothills and the Moravian plain respectively, the two films have a number of superficial similarities. Both were also Oscar nominees, both take place towards the end of an old social order, both have a cyclical view of nature and life and both show the hypocrisy of the supposedly religious.
However, the philosophical premises of Die Siebtelbauern are far less interesting than those of Je treba zabit Sekala, and worse still they are morally questionable. The message of the film ultimately boils down to the notion that killing people is fine as long as you are a good guy. Ironically, this is exactly the sort of moral complacency against which Funny Games was directly aimed and which Je treba zabit Sekala made a more oblique shot at.
As well as being more intellectually stimulating, Je treba zabit Sekala avoids the clumsy narrative form of Die Siebtelbauern and thus emerges as by far the better film. The only two points on which the films can be considered of equal worth are the sumptuous photography and the disappointing film score that they both possess. Je treba zabit Sekala whacks up the volume way too high on its melodramatic music and Die Siebtelbauern is inexplicably and irritatingly accompanied by the meditative piano pieces of Eric Satie.
And yet Die Siebtelbauern is likely to be the bigger financial success of the two. Michalek's film, which can be read as an allegory of the fall of Communism, is a little too uncomfortably challenging for true success and is too much of Central European film to meet with critical acclaim in America or the UK. By emulating Hollywood's bloodthirsty morality as well as the feeling of one of its most treasured genres, Die Siebtelbauern can be assured of a more universal appeal.
Andrew James Horton, 31 May 1999