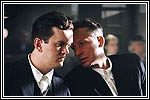 K I N O E Y E:
For a Fistful of Korunas
Vladimir Michalek's Je treba zabit Sekala
---
Andrew J Horton

After the success of films like Kolja and Knoflikari (Buttoners) internationally, the obvious question on everyone's lips is which will be the next Czech film to hit it big abroad. One plausible candidate is Vladimir Michalek's Je treba zabit Sekala (Sekal has to Die, 1998), described by some as a "Moravian Western" and recently nominated for the coveted Oscar for Best Foreign Film. The film was shown in December in the UK as part of the festival of Czech cinema, organised for the second year running by the Czech Centre in London.

As the full harvest of 1943 ripens under the summer sun in the rolling landscape around the fictitious Moravian village of Lakotice, a stranger steps off the train. The warmth and beauty of the scene hide belie the true nature of the place he has just stepped into. He's an outsider in more ways than one - he's a Protestant and this is a deeply Catholic area - and he also has a secret to hide.

The man is Jura Baran, played by Olaf Lubaszenko, the Polish actor whose last notable film role was the postboy in Krzysztof Kieslowski's Krotki film o milosci (A Short Film about Love, 1988). Baran (meaning "ram" in Czech) has heard that there is a blacksmith wanted in the village. He gets the job but his uncompromising character soon means that he has a run-in with the obnoxious character of Sekal, a local bastard, in both the formal and the abusive sense of the term.
The war suits Sekal and despite his less than fascist past, he uses Nazism to further his aims. Nothing can stand in his path as he goes about his blackmailing and extorting to earn him land and sexual favours. Such is the brutality of his rise to power that even Sekal's own father has to concede that Sekal has to die. If only the villagers can find someone who was prepared to do it.
Since Baran is the only person in the village who seems to be able to stand up to the tyranny of Sekal without quaking he is the obvious choice for the job. Just to make sure that he does agree the villagers apply a bit of blackmail just as viscous as anything Sekal would do. Tearing down a crucifix from the wall and slamming it on the table, Baran condemns these Catholic farmers for having "traded God in for a piece of wood."
Rich in talent
Michalek's third film is an astonishingly mature piece of film-making, especially in the light of many of the trends in current Czech cinema, which veer away from giving any sort of weight to films. Michalek is assisted in his task by some wonderful talent: Lubaszenko deserves his award at from the Karlovy Vary film festival and fellow Pole Boguslaw Linda puts in an equally impressive performance.
Also note-worthy is the rich photography of the Slovak Martin Strba, who has also worked with Martin Sulik and Vlado Balco. The peaceful shots of picturesque rural Moravia in its full beauty do much to make the malignance of the village more poignant and the film is far more evocative of the nature of evil than a great many films I have seen which try to evoke it through jack-boots and soldiers rushing maniacally everywhere with machine-guns.
The reviewer for the London listings magazine Time Out felt that "the directors possible allegorical intentions are unclear." Although a hotly contested award, I'm fairly sure that this is my nomination for the most unimaginative film-critic of 1998. Michalek's film could hardly be more obviously and openly allegorical.
Tricky issues
Je treba zabit Sekala is a story of a group of good men who try to destroy evil and end up replacing it with something which is just as repugnant. As such it is dripping with allegorical relevance to contemporary Czech society as it battles with the social, political and economic traumas it has unleashed by ridding itself of Communism.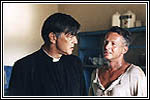 The film explores that horrible conflict between morality and the need to live a stable life. All too often in European history it has not been possible to be moral and have personal security. It is a telling sign of the film's power as an allegory that the Czechs see it as being a film about the Czech Republic, the Poles see it as being a film concerning Poland and the Germans see it as commenting on Germany.
Vladimir Michalek certainly seems to want to keep the film open to various interpretations. At a post-screening discussion after the film's UK premiere at the Riverside Studios in London, Michalek bemused the audience by refusing to be tied down to anything which might resemble a specific answer.
His favourite replies were "It doesn't matter" and "I dunno." He did concede, though, that the mere moderate success which the film has achieved in the Czech Republic could be connected with the fact that it is too much of a mirror for Czech audiences and brings up too many issues which are too painful to confront.
Being a very European film, Je treba zabit Sekala has not met with universal rapture in America and will undoubtedly not achieve the success of Kolja, a pleasant and harmless example of an Americanised European film. Making no such concessions to cinema-goers on the other side of the pond, Je treba zabit Sekala is, perhaps, destined never to win its Oscar.
Nevertheless, in terms of continental Europe, it has a great deal of opportunities ahead of it and it will be interesting to see what other awards it will pick up for itself. All the more bizarre then, that the Czech Centre decided not to put it on its list of films to tour the UK as part of its Czech Season. Let's just hope that this is because there is a wider distribution deal in the offing.
Andrew J Horton, 4 January 1999