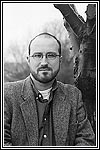 M E D I A :
Will the Last Person to Leave the
Czech TV Newsroom, Please
Turn out the Lights?

---
Andrew Stroehlein
The departure of a leading figure from Czech Television and the attempts to silence her are further disturbing signs that public television in the Czech Republic is still unable to reform.
(cesky preklad v Britskych listech)
Since I left Czech Television (CT) News four months ago, I have only written once about the situation there (see Britske listy, 29 July). Various friends and former colleagues in the newsroom and elsewhere in Czech TV have often expressed their frustrations and disappointments to me, but I never put their frequent criticisms into print, because we all worried about threats to their positions in the newsroom. The events of the last two weeks force me to break my silence.
There is no point in repeating that CT News is amateurish and unprofessional; that is clear from the nightly news. But as if what is on screen were not enough, a consensus of disappointment is growing across a wide variety of concerned professionals. Everyone who has been forced to resign from CT in recent months - myself included - has pointed out the poor quality of CT news, and even people currently high up in the Czech TV establishment are unhappy with the lack of quality.
Even outside media analysts are starting to treat Czech TV news as a bit of a joke. In a private conversation, one Western media professional said that Czech TV news programming could be aptly compared to a "university training channel."
No criticism allowed
What one needs to draw attention to now is something much more serious: Czech Television News is widely seen inside and out as wholly unsatisfactory, yet the personnel situation within the newsroom means that the news cannot improve. This is because public debate and public criticism are not allowed to positively influence the news.
In a strong organization, constructive criticism from employees is welcomed by the management, and external criticism is given some notice, because ultimately that criticism helps the organization focus on problems that need attention. Identifying problems is the first step to correcting them.
By contrast, in the Czech TV newsroom, constructive criticism on the inside is ignored, and internal critics are openly punished if they make their criticism public.
Bobosikova
Witness the fate of the popular moderator of the nightly "21" program Jana Bobosikova. Having worked with many presenters at Czech Television News, I must say that Bobosikova is certainly the strongest personality and best interviewer that corporation has. Her loss is a severe blow to the already lagging quality of Czech public television.
When a strong asset like Bobosikova announces her resignation, any responsive and responsible organization should stand up and take notice. Such a resignation should inspire the leadership to look into her criticism and explore the cause of her dissatisfaction. Instead, what Newsroom Chief Zdenek Samal did was take her off the air of the "21" program, prohibit her from taping reports and give her insultingly menial work. Samal's response - trying to silence the whistleblower and create a threatening example for other employees thinking of going public with their complaints - can only be described as hard-headed and primitive.
Bobosikova has been beating her head against a wall over the past few months trying to improve Czech TV News from within. Her various proposals to her superiors, both within the newsroom and above, were ignored. Her suggestions and criticisms at various meetings were scoffed at. This despite the fact that her high level of professionalism and her excellent on-screen manner had been publicly and privately praised on several occasions by the Council of Czech Television and by the Director of Czech Television Jakub Puchalsky himself.
Becoming more and more embarrassed by working for the deteriorating Czech TV News and yet completely frustrated with not being able to improve the organization through internal criticism, Bobosikova felt that only one path was left open to her: resignation and public criticism.
Bobosikova's sad tale demonstrates why Czech TV News cannot improve: internal criticism is rejected without discussion, public criticism is punished.
Bobosikova is not the last person in the Czech TV newsroom who has critical ideas and hopes for decent TV news in the Czech Republic. There are several others at CT who are in her position - or rather in the position that she was in a few weeks ago. These holdouts are trying to improve the situation from within, but their criticism is ignored. They do not go public because they have seen what happens to whistleblowers.
Of course, Bobosikova wasn't planning to be a whistleblower a few months ago. She tried to work within the system (and she certainly lasted a lot longer than I did), but in the end, she realized it was pointless: no one was listening.
The other reformers in the Czech TV newsroom similarly are not planning to go public at the moment, but like Bobosikova, they will eventually come to the conclusion that they have to - if for no other reason than to preserve their professional reputations. A true professional does not want to be associated with amateurs for long.
At the top
Combined with the rejection of criticism within the newsroom, Czech Television unfortunately refuses to allow criticism from independent critics outside the organization. General Director of Czech Television Jakub Puchalsky, despite frequent requests by the Internet daily Britske listy, continues to keep secret the project proposal which was the basis of his winning the directorship in an open competition. This secrecy is completely inappropriate given that Czech Television is a public station.
More importantly, Puchalsky's refusal to make public his original plans for reform means that no one can evaluate Puchalsky's level of success or failure. No one can judge whether his reforms have been accomplished or not. There can be no public discussion about the state of public television. Of course, knowing that his planned reforms for the News Department were quite far-reaching, I can see why Puchalsky would want to keep them hidden now when the newsroom is such a shambles and all the highest quality people are leaving.
The impossibility of positive change
Unfortunately, Puchalsky is up against the wall as far as the newsroom is concerned. His early mistakes are coming back to haunt him.
The months of Czech TV news under Zdenek Samal have seen the quality of the news sink to a depressing level. Samal's blunt attempts to silence his critics appall anyone with a sense of decency.
But Puchalsky cannot publicly censure Samal or ask Samal to step aside to make room for more professional managers with more experience, because Puchalsky has done this once before. After only 51 days as Newsroom Chief, Ivan Kytka was forced to resign from his post by Puchalsky in May.
General Director Puchalsky knows he would now look far too vulnerable were he to sack a second news director in the space of half a year. Puchalsky's desire to protect his public image and position means that Samal has carte blanche to continue with his third-rate news programming and his crude management style.
Downward spiral
So, public television in the Czech Republic is in dire shape, and the license fee payers are getting less and less for their money. Those in the newsroom who would like to improve the news are silenced with threats to their position. The new General Director who had great plans for reform is now so embarrassed by what he has not accomplished that he feels he has to hide his original project. The newsroom continues to lose its best people.
And one ill-considered, snap decision back in May means that the situation cannot improve.
Andrew Stroehlein, 9 November 1998