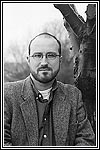 C Z E C H R E P U B L I C :
Time for a "Little Weather"

---
Andrew Stroehlein
It's half past 10 in the evening: time to settle in after a long day; boil some water for a nice, soothing cup of tea; maybe turn on the television to catch the news headlines or the weather for the next day. Ah, yes - The weather is on - in the form of Pocasicko, Czech for "a little weather." From this three-minute program, you learn tomorrow's daytime temperature and the likelihood of rain. All the basic weather information is there for today's information-hungry consumer. Oh, and one other thing: This weather data is presented to you as a naked young woman parades across the screen.
(cesky preklad v Britskych listech ZDE, This article originally appeared in The Prague Post.)
The flagship of TV Nova's programming, Pocasicko often draws a 70 percent share of the Czech viewing audience. Watching a woman put on her clothes may not seem to have a whole lot to do with the weather; however, in a country where "feminism" is a four-letter word, Nova is turning the concept into a success.
But watching a woman put on her clothes? Doesn't that seem to break all the rules of the art of striptease?
Well, yes, but there is a twisted, Novaesque logic to it. The model starts out in the buff and gradually dresses according to tomorrow's weather. Clever, isn't it?
The program developers at Nova obviously knew what they were doing when they created this one. Currently the most popular show in the Czech television market, Pocasicko has helped to make Nova the only profitable private TV station in the post-Communist orbit.
Many criticize Pocasicko as a typical example of the "lowbrow" and "primitive" approach of Nova Television, but it's hard to argue with the success of the private station. To the everlasting regret of the Czech intellectual class, Nova's director, Vladimir Zelezny, has built the Czech Republic's dominant media outlet on the lowest common denominator.
Despite his original plan for the station, which five years ago promised a cultural and educational paradise, Zelezny now makes no secret of his approach, saying: "We showed that Czechs are like other Europeans, whose first interest is soccer, with erotica a close second."
Actually, Zelezny is selling his prized program short. Can Pocasicko really be classified as simple "erotica" when the woman is actually putting on her clothes rather than taking them off? How does one confront the complex social commentary that Pocasicko offers with this absurdist reverse striptease? Isn't Pocasicko actually an extremely highbrow, artistically crafted presentation of the modern Czech condition: A reversal of all that is considered normal, a situation causing frustration?
Recently, several thinkers and theorists have emerged to confront the national, existential and post-modern problems presented so elegantly every evening in Pocasicko. On the threshold of a burgeoning movement that could alter the intellectual landscape of Central Europe forever, these daring innovators have accepted Nova's cerebral challenge by developing a way to make sense of Pocasicko. These dedicated individuals have begun to record the nightly show on video and then play the tapes backward, thus enabling them to watch a proper striptease as God and nature intended. Man's answer to the nonsensical world around him: create order from chaos.
So, last night, I turned on my television to watch Pocasicko - just to find out the next day's likely weather conditions, of course, not to deal with these weighty, philosophical matters that are far above me. True to form, a long-haired, naked body walked into view next to the essential meteorological data I was seeking.
Uh, wait a minute, I said to myself, that's not a weather pointer. Nor was it one of those little weather symbols of a dark cloud with the lightning bolt coming out of it signifying stormy conditions ahead. It was, indeed, a man: full-frontal male nudity. A bit of foreskin with the forecast. This throws up a whole new set of profound questions, such as: "What was the weather forecast again?"
Andrew Stroehlein, 15 February 1999