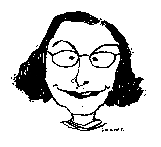 P R A G U E :
Forum 2000
Beating the dead horse of "globalization"
---
Kazi Stastna
For the second year in a row, Prague Castle is the site of Forum 2000, a global conference of international "thinkers." Unfortunately, discussing the issue of globalization seems a bit behind the times.
Originally conceived by Czech president Vaclav Havel as a means of addressing global issues from a more humane perspective, this year's conference, which runs from 11 to 14 October, again includes a panel of world renowned politicians, historians, sociologists, dissidents, scientists, human rights activists, philosophers and theologians.
Despite the high profile guest list, including several big names and the odd Nobel laureate or nominee (Hillary Clinton, Henry Kissinger, Adam Michnik, Wei Jingsheng), the conference is bound to suffer under the dead weight of its chosen theme: "Globalization - experience, instruments, procedures." Although the organizers aim to run this tired non-issue through a new wringer and tackle it from the perspective of different cultures and civilizations, a preliminary glance at some of the keynote speeches suggests the guests, armed with cliches and stock phrases, are doing less tackling and more beating - of a dead horse.
Last year's conference was similar: it was graced by the presence of noble participants such as the Dalai Lama, Simon Peres and Elie Wiesel, yet it opted for another cliche theme: "Concerns and Hopes on the Threshold of the New Millennium."
Havel and his organizers hope to make the conference a regular event, and one trusts that they will not wish to make it an annual, highbrow bore. Hopefully, next year, they will manage to pull it out of its regressive, thematic deadlock and start confronting their honored guests with some challenging topics.
Kazi Stastna, 12 October 1998