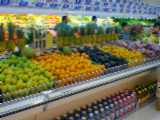 C O N S U M E R I S M:
Back to the Future

---
Vaclav Pinkava
The above title came to me after returning to the UK this summer. When I first came back to the Czech Republic in 1992, I sometimes could not help feeling that I was re-living the past, like watching a videotape on fast forward. Things were happening in Czecho(Slovakia) in much the same order that they had in the UK over the preceding 20 years - only faster.
I did not always get it right, of course, but the chance to re-live a chunk of my life had a dreamlike quality about it. It was also a comedy of errors, much as the gesticulations of a speaker become more noticeable when you are looking at a fast-moving recording. The burgeoning of petrol stations, fast-food outlets, DIY stores, hypermarkets, the spreading of cash machines, the facelifts to buildings, were accompanied by the spread of graffiti, packaging and billboards everywhere.
Then came the mid-nineties; the more superficial changes were now well established, and the underlying differences became clearer and more telling. This included people's attitudes, the legal system, corruption, that kind of thing.
These days, I seldom feel like I can predict future trends in post-Communist Europe. Perhaps it was a dream that I ever could, and I have finally woken up.
Nevertheless, going back to the UK always represented an opportunity to reset my timewarp gauge. Where has the UK gone? Is it still ahead? By how far, and in what direction? Is it an example worth following, or is it worth avoiding?
Britain seems to be a more diverse, more cosmopolitan place. There seems to be more choice of food, and it is normal to find mixer taps, duvets and double glazing. There is a more European feel about the place, and Britain has, in some ways, lost its idiosyncrasy, becoming a little more like Belgium. I bet they'll never eat their fish-n-chips with mayonnaise in London, though.
Innovation has proceeded relentlessly but largely inwardly, refining the details of a drawing on a finite-sized piece of paper, filling the last vestiges of space for opportunity. Variation within a confined space.
Some ideas seem to have been lifted straight out of Prague, such as the spoken announcements on London Underground trains, telling you which station comes next. Some ideas are new to me, such as bus-stop kerbstones with Emmental cheese holes in them, so that rainwater drains under the pavement, and the bus does not splash the waiting passengers when it pulls in.
Fuel prices are ridiculous. Diesel costs me almost twice the German rates. The buses still don't run on time, but they now publish histograms of how they are doing.
British zebra crossings are very distinctive. Drivers actually stop at them, for one thing. They have always been a particular feature, with zigzags painted along the kerb fore and aft where you must not park, to keep the view clear. There are Lollipop men - pensioners who carry Stop Children signs (not to advertise contraceptives but to help schoolkids cross at peak times).
But British roads are filling up, and the drivers are getting road rage. There are speed cameras everywhere, to catch motorists between traffic jams. Around Zebra crossings the flashing orange lollipop lights have grown taller. Where there are no Lollipop men, there are roadbumps - or sleeping policemen as they are known. Even in rural towns the roads have become three dimensional (another idea taken from the pothole ridden Czech road network, perhaps). Zebra crossings are on a raised bump in the road, and drivers who wish to protect their suspension had better slow down.
They ought to introduce that in the Czech Republic, and soon, along with those other great British inventions: reflective "cats-eyes" and "the roundabout."
Zebra crossings are, to me, the primary indicator of civilised behaviour. When the time comes that Czech drivers begin stopping for pedestrians at Zebra crossings - or rather, when pedestrians act decisive and self-confident enough to make them do so - then we will have arrived in civilised Europe.
Yet, all is not for the better in Britain.
Britain is a land in which fundamental inventions have sprung up throughout history like geysers, but is a bit of a desert as far as the routine, everyday inventiveness of the general population is concerned. Lateral thinking is more at home in Czecho.
It must be something in the genes which makes a Czech emigre in Britain go into a hardware shop to buy a tap-washer, find it is out of stock, and shock the assistant by asking for a short length of rubber hose instead - to take home and slice into a salami of tapwashers.
In England, the shop assistants do not assist. They just work the till or walk around in uniforms, to save them from the unemployment register.
On this trip, while staying with my mother, I decided to repair her strimmer, One component had worn through, and I needed a small crocodile clip / jubilee clip / hose clip - a whateveryoucallit for a quick fix. In a Sunday-opening white goods store they could sell me a washing machine but not a crocodile clip. I was expected to get a plumber in to fix the washing machine, not do it myself. In a garden centre, where they sold fountains and decorative ponds, the clips were also not to be had, not even in little plastic packs - same reason. The DIY store had shut by then; its opening hours corresponding to the demand. And petrol stations now only sell groceries in Britain. Cars don't break down, it seems, and when they do, you get a man in. He comes to you, in a van, replaces your broken windscreen, vacuums up the broken glass, charges your credit card, and you're ready to rejoin the traffic jam.
In the end, employing a bit of lateral thinking, I made a new component out of a hollow kitchen cabinet doorhandle.
Back in the garden, having done the lawn, I decided to repair my mother's weathervane. Next day, I went to the Homebase DIY and found it empty of customers (unlike in the Czech Republic). Upon asking directions, a spotty youth assured me he'd never heard of Hammerite paint. Hammerite is excellent, despite its price. Even back in the Czech Republic, Hammerite paint is a big hit. There are billboards advertising how a railway bridge near Prague stays protected for five years, because of it. I did not think the assistant knew what he was talking about. If the mountain won't come to Mohammed, Mohammed must go to the mountain, as the saying goes. I took him, by instinct to where they had four large shelves of the stuff, in all the colours of the rainbow. I think he's never heard of it, because he's never seen a customer buy it, as he's probably never seen a customer.
Rainbow-wise, in central London, on lower Regent Street, stands the mecca of sportshops, Lillywhites. Spanning six floors, it has absolutely everything you might want, unless your everything includes corrective swimming goggles. They do, however, have a whole wall of non-corrective ones, in all the colours of the rainbow. (It's like lining up nothing but shovels against the wall and asking you to take your pick.)
You might say, as the assistant did, "Corrective goggles? I've never heard of that, sir, why don't you try an optician? There are several around here." Indeed there are, at least ten. The trouble is, they don't do off-the-shelf approximate strength corrective goggles at the optician's either. Not any more. In today's Britain, the motto is Lifestyle and Designer Everything; service with a smile; have a nice day. You want corrective swimming goggles? Let's just measure you up sir, while you wait. Latest technology, and we'll get your corrective goggles sent to you in a couple of weeks, with the right prescription to umpteen decimal places of Dioptres. Pay by credit card. Any colour you like.
I wanted to go swimming, though, with my myopic daughters. In humans shortsightedness (Myopia) is genetically dominant over normal vision - a missed opportunity for a mass market product. How shortsighted to overlook it!
It seems they do not cater to majorities in Britain any more. Only to significantly large sets of individuals.
(To be fair, in the end I did find a little place, an optometrist's next to the Tottenham Court Road tube station - 40 pounds a pair.)
Back to the garden and the weathervane. I made the weathervane itself out of some orange plastic. A griffin I designed myself and cut from an old, cracked, square plastic garden bin. My mother had kept it in the shed - Czech genes.
In Czecho, people keep things and find a use for them, barter them, sell them or find a use for things that other people have thrown out. Take the drum out of an old front-loading washing machine, turn it on its side - door up - take the door off, put three metal posts in the ground and lower the drum onto them where the internal raised bits are. Why? To make a waist-level garden grill. Incredibly efficient. Almost free.
Necessity is the mother of invention, but there is a flip side to everything.
Back to the past. In 1992, I went into a Bosch agent in Prague to buy an electric lawnmower. They had one left, the most expensive, on the wall, and would put it in the original packaging, it was under warranty etc. The trouble was, it had no extension lead, only the little whiptail it came with. It seems Czechs in those days objected to having to spend money on extension leads. Everyone already had one, or could make one up, cheaper, from components bought at an electrical hardware shop. They couldn't care a tuppence what colour of the rainbow it was. I suspect the agent made a habit of taking the leads out and sold them separately to electrical shops on the side. I doubt he took anything off the price of the mower, though.
There is a saying: "Time is Money." Time spent is money earned.
In Britain, it also means "Money spent is time saved." In Czecho it translates as "Time spent is money saved." In Britain you don't do the job yourself; you get a man in. That's why the British DIY stores are empty, and the Czech ones are full. For now.
A service-based economy is the future. It is the only way to avoid massive unemployment. As it becomes possible to make more goods with fewer people, people have to do easy things for each other, specialise, de-skill in other areas. You can't buck a trend when it has the logic of economic history behind it. I predict that the future looks bleak for the Czech DIY enthusiast. He'll have to set up a business, call himself a handyman and put it on his business card.
The trouble with an interwoven, service-based economy is that an economic slump spreads like an avalanche. If you can't afford to get a man in, and you've lost the knack to do it yourself, then what?
For now, necessity is holding back "progress," and the German-owned DIY stores are making money.
Turn your back to the future, all ye men in blue overalls.
Vaclav Pinkava, 10 August 1999