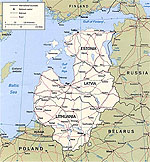 C E N T R A L E U R O P E A N N E W S:
News Review for the Baltic States

All the important news from Estonia, Latvia and Lithuania since 10 July 1999.
---
This review of the week's events contains several parts. Click below to move to your area of interest:
---
Pan-Baltic
Lithuanian Prime Minister Rolandas Paksas hosted his Latvian (outgoing) counterpart Vilis Kristopans and Estonian counterpart Mart Laar in the seaside resort of Palanga. They discussed various issues of Baltic co-operation, including the joint energy system, transport network, trade and defence issues. Estonia and Lithuania continue to be displeased over Latvia's tariffs on pork, stating that it is a violation of the free trade agreement.
During that set of meetings, the long-awaited treaty on the maritime border between Latvia and Lithuania was signed by the two prime ministers. The treaty has been long delayed and negotiations difficult due to an oil deposit at the border zone. This still requires parliamentary approval on both sides.
Baltic and Nordic defence ministers met in Oslo, joined by US Defense Secretary William Cohen. Most of the meeting focused on relations with Russia, as well as regional co-operation.
---
Estonia
Finnish Foreign Minsiter Tarja Halonen made a quick visit to Estonia mid-week to talk EU. Estonia championed the inclusion of Latvia and Lithuania in the accession negotiations, which Halonen seemed to also support.
Border guards are stepping up checks on Slovak citizens coming to Estonia, after finally admitting that many used Estonia as the springboard to enter Finland. Slovak citizens have visa-free travel with Estonia as well. It is estimated 30-40 Slovaks enter Estonia a day.
Estonia's image was severely tarnished over the week with its citizens involved in several big drug busts around the continent. The largest drug haul in European history was confiscated from an Estonian trawler travelling from Panama to the continent. Another bust happened in Finland, while yet another happened on the coast of Spain.
The new UNDP report on human development ranked Estonia at number 54. Some ignored this, others became quite annoyed with the old statistics used.
Officials estimate that Estonia's contribution to the EU after becoming a member will top 1 billion kroons (USD 67 million), but should bring in three times that amount.
Some Estonian veterans who were illegally transferred to the Soviet Army by US troops in World War II are calling for an official apology from Washington. Few countries in Europe have made such appeals, but for example, Sweden has apologised for the deed.
Local construction giant Merko received the coveted contract to build the new Radisson Hotel in Tallinn. The new hotel, which will become another skyscraper in Tallinn, should be completed in 2001. The contract is worth 300 million kroons (USD 20 million).
There was no movement on inflation, as June CPI registered no change.
Unemployment stands at 5 per cent, down a little from last month. The eastern Ida-Virumaa county remains the highest at 9.4 per cent.
The annual festival Ollesummer (Beer Summer) brought in 25,000 visitors a day for five days. The festival featured, what else, beer, and grilled food. Plenty of entertainment and food and beer. Amazing stuff. Single entry tickets were expensive, however, at 75 kroons (USD 5).
---
Latvia
The Saeima approved the government of Prime Minister Andris Skele on 16 July by a vote of 60 to 37. The new coalition brings together the three largest parties of the Saeima - People's Party, Latvia's Way, and For Fatherland and Freedom. The coalition holds 62 seats out of 100 - thus confirmation was not considered a problem. There were some ministerial shifts: most notably, long-time Foreign Minister Valdis Birkavs will be moving to the justice ministry, while popular Vladimirs Makarovs will be economic minister. Several portfolios remain the same, such as defence and transportation.
Moving onto Latvia on the same day from Tallinn, Finnish Foreign Minister Tarja Halonen boosted Latvia's confidence about joining the EU negotiations during the Finnish EU presidency. However, Halonen warned about Latvia's controversial language law and claimed its approval could affect the EU's decision. The EU has been quite critical of the law.
Well, with that warning, as well as a complaint letter from the OSCE, Council of Europe and everyone else it seems, President Vaira Vike-Freiberga sent the language law back to the Saeima for review. She noted seven points of objection. The Saeima could refuse the objections, which the president would then have no choice but to promulgate.
Latvia's CPI in June jumped by 0.7 per cent.
The UNDP human development index dropped Latvia to rank number 74. Most complained the results were derived with old statistics. How else to explain the higher ranking of Belarus?! Though it is a rise from last year, Latvia's ranking has crashed since five years ago when it hovered around the 40s.
Unemployment sits at 10 per cent, which outgoing Prime Minister Kristopans mysteriously noted with satisfaction...
---
Lithuania
Finally, also on the same day as Tallinn and Riga, Finnish Foreign Minister Tarja Halonen dropped into Lithuania. She also boosted the confidence of Lithuania with respect to its chances of beginning accession negotiations but did hint that the fate of Ignalina Nuclear Power Plant would play a role.
At the same time, Prime Minister Rolandas Paksas made a two-day trip to Finland to lobby for the same thing: inclusion into accession negotiations. He met with Finnish President Martti Ahtisaari, Prime Minister Paavo Lipponen and, after she returned from Lithuania herself, Foreign Minister Halonen.
Farmers across the country pulled a 'mini-Lepper' mid-week as they blocked roads and protested in 20 regions around Lithuania [Lepper is the Polish farmers' protest leader, ed.]. They joined sugar beet farmers in the southern Marijampole region, who have been protesting for over a week. The government is quite upset that local governments "allowed" roads to be blocked, which is illegal.
The "founder" of Lithuanian basketball, Pranas Lubinas (Frank J Lubin), died the past week. Lubinas was instrumental in making basketball popular in Lithuania during the 1930s. He even led Lithuania to one of its two European Championships in the late 1930s. He is also a basketball giant in the US and was the captain of the US gold-medal basketball team at the 1936 Berlin Olympics.
Former Prime Minister Gediminas Vagnorius caught the Conservative Party off guard at its special congress by resigning from its board. He was in turn replaced by the current prime minister, Rolandas Paksas. Most people believe Vagnorius is in hibernation, waiting to strike back when the time is right - when current party leader Vytautas Landsbergis fades from the scene.
Palestinian leader Yassir Arafat dropped into Lithuania en route to Finland. During his short visit, he had dinner with President Valdas Adamkus. They discussed bilateral ties and the Mid-east peace process, in which both sides saw optimism.
Israeli Ambassador Oded Ben-Hur got into another storm when a local daily accused him of pressuring the three Baltic countries not to grant a visit to Arafat. Ben-Hur denied the claim. Ben-Hur has been in a series of controversial episodes recently, including the naming of Lithuania as a "haven" for war criminals.
However, sugar beet farmers did not heed the suggestion and began protesting in southern Lithuania on 9 July.
Nobel laureate, poet and essayist Czeslaw Milosz made a visit to his home town, Kedainiai, in Lithuania.
Lithuania sits at number 62 on the UNDP human development index.
Georgian Foreign Minister Irakli Menagarishvili made a visit to Lithuania to discuss bilateral ties and Georgia's aspirations to join Euro-Atlantic organisations. The visiting foreign minister also called for a crackdown on fake Georgian wine.
The long-delayed law on civil service was finally approved by the Seimas.
More visits: Bundesrat head and Prime Minister of Hessen Ronald Koch also visited Lithuania to discuss EU, NATO and bilateral ties.
The shaky Lithuanian social welfare fund SODRA took another hit when the government allowed it to borrow another 20 million LTL (USD 5 million). The fund is already in debt by 184 million LTL (USD 46 million) to local banks and its debt could reach 350 million LTL (USD 87.5 million) by year's end.
There was deflation in June, as CPI dropped by 0.1 per cent in Lithuania.
---
Exchange Rates
As of 16 July 1999
currency
Estonian kroons (EEK)
Latvian lats (LVL)
Lithuanian
litas (LTL)
1 US dollar (USD)
15.32
0.61
4.00
1 British pound (GBP)
24.05
0.95
6.27
German mark (DEM)
8.00
0.32
2.09
Euro (EUR)
15.65
0.62
4.09
| | | | | | | |
| --- | --- | --- | --- | --- | --- | --- |
| currency | Czech koruna (CZK) | Hungarian forint (HUF) | Polish zloty (PLN) | Russian rouble (RUB) | Slovak koruna (SKK) | Slovenian tolar (SIT) |
| 1 Est. kroon (EEK) | 2.35 | 15.93 | 0.25 | 1.59 | 2.86 | 12.55 |
| 1 Latvian lats (LVL) | 59.36 | 402.69 | 6.42 | 40.13 | 72.37 | 317.32 |
| 1 Lith. litas (LTL) | 9.00 | 61.04 | 0.97 | 6.08 | 10.97 | 48.10 |
---
Prepared by Mel Huang, 16 July 1999
---
News Sources
Baltic News Service (BNS)
The Baltic Times
Radio Free Europe/Radio Liberty
Reuters news on Yahoo
ETA
Eesti Paevaleht
Postimees
Aripaev
ELTA
Lietuvos Rytas
Lietuvos Aidas
Kauno Diena