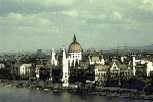 C E N T R A L E U R O P E A N N E W S:
Hungarian News Round-up
News from Hungary since
24 October 1999
---
Paul Nemes
Ten years after the Hungarian People's Republic made way for the Republic of Hungary, Hungarians celebrated the end of Communism and the anniversary of the 1956 Uprising. Hungarian President Arpad Goncz, Prime Minister Viktor Orban and Budapest Mayor Gabor Demszky were among those attending a ceremony outside the Parliament building in Kossuth Square in commemoration of the uprising that was crushed by the Soviet Union 44 years ago.
This year's ceremonies were marked by divisions between the Government, the "56ers" - as those who fought the Russians and the Secret Police are known - and the Socialists. Sports Minister Tamas Deutsch said, "the October heroes are still among us, but also among us are too many who helped crush the revolution and assisted retaliations. Court procedures against them have been closed, and many who were against the 1956 revolution as well as the birth of our young democracy in 1990 still hold high offices." Deutsch's speech was directed particularly at an unnamed Socialist MP, but it was clear that he was referring to former Prime Minister Gyula Horn, who was involved in the repression of the Uprising. Secret Services Minister Laszlo Kover of Hungarian Civic Party (FIDESZ) had earlier said the Socialist Party (MSZP) was guilty of high treason during the Uprising. The Socialist Party held their own commemorations in Kaposvar, the birthplace of Imre Nagy - Hungary's Prime Minister during the Uprising, who was later executed by the Soviets.
43 years to the day after the outbreak of the 1956 Uprising, former Premier Andras Hegedus died, aged 76. Hegedus, who called in Soviet tanks to crush the Uprising, was Prime Minister until 24 October 1956 when the people demanded democratically elected leaders and a withdrawal from the Warsaw Pact. Hegedus subsequently escaped to the Soviet Union where he remained until he returned to Hungary and Janos Kadar's Communist Party in 1958.
Austrian EU Commissioner Franz Fischler has written off Hungary's hopes of early admission to the European Union (EU). Fischler told Hungarian daily Nepszabadsag, "accession talks with Hungary cannot be completed before 2001." He added that the EU would have to complete its own reforms before concluding accession talks with those counties which will be best prepared by 2002.
The Finance Ministers of the five leading countries for EU enlargement, who met in Budapest last week, said that they are making steady progress towards adopting the criteria for European economic and monetary union (EMU). The finance ministers of Hungary, Poland, Estonia, Slovenia and the Czech Republic agreed to coordinate public reforms. They also agreed to look carefully at development and tax harmonisation. Hungarian Finance Minister Zsigmond Jarai appeared optimistic after the meeting saying that "inflation is going down in each of the five countries, and the current account and budget deficits are in equilibrium." Jarai also said that, "Hungary is ready to prepare itself for joining EMU in the middle of the next decade, some two or three years after joining the EU."
On Thursday, a conference entitled "Hungary and Europe" was held in Brussels. Belgian Foreign Minister Louis Michel praised Hungary's unity with NATO during the bombing of its southern neighbour, and highlighted the stabilising role Hungary plays in the region. In his lecture Jozsef Szajer, Chairman of the Hungarian Parliament's European Integration Committee, stressed the lasting damage Communism caused in terms of civil society, but said that Hungary's living standard was closer to EU than that of Spain and Portugal at the time of their accession.
From 1 January, Hungary will be given around HUF 70 billion (ECU 250 million) per year to support its accession to the EU. Imre Boros, co-ordinator for the EU PHARE (Poland and Hungary Assistance for Economic Restructuring) programme, said that the money would be used to develop the regions and support the public sector.
Prime Minister Orban last week made his first official visit to Canada. On his arrival, Orban said that he would like to thank Canada for its role in helping refugees after the Hungarian Uprising, and for having been the first country to have approved Hungary's NATO membership. During his five-day visit, the Prime Minister discussed economic and cultural cooperation as well as Southeast European stability related to NATO. Orban held discussions with Prime Minister Jean Chretien and other Canadian ministers in Ottawa before travelling to Toronto on 29 October. Chretien said, "this visit will serve to strengthen the economic and trade relationship between Canada and Hungary and will provide Prime Minister Orban with an opportunity to meet many in the Hungarian emigre community who have made a strong contribution to Canada." Orban was accompanied by a delegation that included Economic Affairs Minister Attila Chikan, President of the National Bank of Hungary Gyorgy Suranyi, Head of the Prime Minister's Office Istvan Stumpf and Chief of Staff Lajos Fodor.
A road show is planned for next month in order to convince investors that Hungary has greater similarity to Western Europe than other emerging markets. The road show, organised by the Budapest Stock Exchange, will take place in London and New York on 17 and 18 November. The National Bank of Hungary, the Finance Ministry, Matav, MOL, Antenna Hungaria and other large companies will take part. Finance Minister Zsigmond Jarai will also be present in London and New York.
Leaders from Yugoslavia who are opposed to the Milosevic regime met with James Dobbins, the US Balkans envoy, in Budapest last week. In their meeting the Yugoslav opposition called for measures other than sanctions to remove Milosevic from office. The sanctions, they said, were harming civilians while having no effect whatsoever on Milosevic. Meanwhile, Hungary is urging the European Union to clear the bombed bridges which are blocking the Danube at Novi Sad/Ujvidek. After Viktor Orban raised the issue with EU Commission President Romano Prodi last week, a Hungarian diplomat said Hungary would press the Finnish EU presidency for financial aid to remove the debris blocking the river.
Finance Ministry Secretary of State Mihaly Varga said on 27 October that Germany is trying to locate East German secret police funds in Hungary. A German committee is trying to track down the money believed to have been laundered in Hungary by the Stasi. It is thought that the former East German secret police may have tried to hide as much as three to four billion German marks in the National Bank of Hungary (MNB) in the early 1980s. According to national news agency MTI, the German committee probably chose Hungary for investigation because the MNB allowed anonymous bank accounts until 1991.
Prime Minister Orban met with Prosecutor General Kalman Gyorgyi on 25 October to discuss police involvement in illegal oil dealings in Bekes County. On 26 October, Interior Minister Sandor Pinter "temporarily" accepted the resignation of Laszlo Gal who was head of Bekes County police until July 1998. His name has frequently been mentioned in connection with the illegal oil deals. Gal said that he resigned to avoid speculation that he might impede the current investigation into police involvement in the affair.
In London on 25 October, Hungarian oil and gas company, MOL, declared its new strategic and financial targets. MOL aims to invest up to USD 1.5 billion in regional exploration, gas and power, fuel wholesale and retail - all central to MOL's operations. However, the company will "exit international oil exploration" and only continue its exploration where MOL is "present for production purposes." It was also announced that, between now and 2002, the number of employees would be reduced by 12 percent per year. MOL last week won a three-year contract to supply auto fuel to Hungarian government institutions. Previously the procurement was only offered on a one-year basis.
On 28 October, 30 musicians from the Budapest Festival Orchestra gathered outside Budapestís city hall to give a protest concert against the lack of public funding for the arts. Conductor Ivan Fischer said that he was protesting because the City had not paid Septemberís salaries to the musicians. A Budapest Festival Orchestra musician earns HUF 120,000 (USD 490) per month. Fischer said that he would need HUF 300 million (USD 1.25 million) for the orchestra to continue next year. This is about one tenth of the amount an orchestra in Western Europe receives in funding.
Hungarian police said on 27 October that they had arrested Attila Ambrus, the Whisky Robber. After Ambrus's last robbery, at the OTP Bankís Ulloi ut branch, police were able to identify him from security camera videos and a DNA analysis of blood and hair from the scene. According to a recent Internet poll, 1008 persons hoped that Ambrus would not be caught, while only 91 people wanted the police to catch him. However, last week's increase in the reward to HUF five million (USD 20,000) for information about Ambrus's whereabouts seems to have had an immediate impact.
Paul Nemes, 29 October 1999