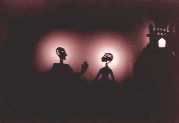 T H E A T R E:
The Sixth Next Wave
Prague's Next Wave theatre festival
---
Catherine Miller
It may seem paradoxical for a festival of alternative theatre taking place for the sixth time this year to announce itself as something of an institution, but this apparent contradiction in fact epitomises Prague's Next Wave theatre festival. While the performers at this year's festival were evidently striving to produce something "new," for the most part their creations served only to confirm the adage that no such thing exists in the world.
The Czech interpretation of "nouvelle vague" seems more back-to-basics than any rush toward new pastures. Among the more successful productions staged at this year's festival, which took place in Prague between 8 to 10 October, were those which drew on mime, commedia dell'arte and good old slapstick. This final element was particularly prominent in the excellent Ten kdo jde stredem, se vraci sam… (He Who Walks Through the Centre, Returns Alone) – a production which grew out of a workshop organised by Theatr Novogo Fronta member Irina Andrejea. The show combined poignant and bizarre moments with energy and perfect timing to link a series of skits into a rounded spectacle, which would not have been out of place on a Berlin cabaret stage.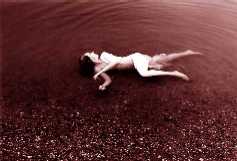 Not all the productions which followed this path back to the court-jester traditions of theatre were so successful. The blurb for Svetr ke krku's (literally, "Sweater up to the Neck") short mime performance ran: "We are moving in an unknown environment and we don't know where the attack will come from… We try to guess the other's intentions… we hunt and we escape." Worthy sentiments, perhaps, but a little pretentious considering that the spectator's lasting impression of the performance is one of two girls prancing around pretending to be fish. Likewise, some of the productions' claims to be "new" or "alternative" were hardly credible. Lucie Mertova's The Hobby of Mrs. Death turned out to be an embarrassing concoction of West-Side Story-style antics and lumbering Swan Lake-esque choreography. Hardly what one would call avant-garde.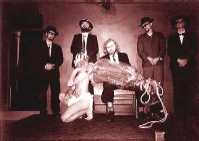 Perhaps the most sophisticated and truly "alternative" production I managed to catch at the festival was performed by the Sklenena louka (Glass Meadow, pictured left) ensemble from Brno – certainly a good omen for the future of this "theatrical" town in the south- east of the country, which has produced a number of noteworthy theatre companies, the most heralded of which has probably been Husa na provazku (Goose on a String). They lost the full-day programme slot they received last year to groups from nearby Ostrava, however, their Strezeny Parnas sro (Guarded Parnassus Ltd) should certainly put them in the running to win back their stage in future years. Unlike most of the other performers, they did not consider dialogue to be "old-fashioned" and spoke in washes of absurdist but moving soliloquies. The all-male cast produced a visually beautiful performance using a simple set made up of, for example, "waves" of barbed wire which accompanied a serenade to a constantly inflating and deflating blow-up doll, encapsulating a melodious cacophony of the erotic, the violent and the tender.
Though performances such as this give hope that the waters of the Czech theatre scene still have some treasures to cast up, the sixth Next Wave seems to have left the coasts of Bohemia untouched, with only a little flotsam and jetsam to gather up.
Catherine Miller, 13 October 1999
The Next Wave festival website is HERE.