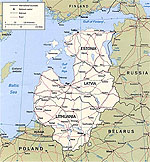 C E N T R A L E U R O P E A N N E W S:
News Review for the Baltic States

All the important news from Estonia, Latvia and Lithuania since 4 September 1999.
---
This review of the week's events contains several parts. Click below to move to your area of interest:
---
Pan-Baltic
German Foreign Minister Joschka Fischer visited Tallinn to meet with the Baltic foreign ministers. Fischer met with his counterparts Toomas Hendrik Ilves (Estonia), Indulis Berzins (Latvia) and Algirdas Saudargas (Lithuania) to speak about EU and NATO enlargement. Fischer re-affirmed Germany's support for the Baltics' membership in the EU and seemed optimistic that Latvia and Lithuania will join Estonia in the front-running group. He also re-iterated Germany's support for NATO's open-door policy. Fischer also held bilateral meetings with the three ministers, as well as with a host of Estonian officials before departing to Finland

---
Estonia
The Statistical Department offered a surprise when it showed Q2 GDP dropped only by 2.4 percent. Most experts anticipated the drop would be at least three to four percent, if not more. This result livened up the bourse and caused some cautious optimism among traders and analysts in Tallinn and London.
Prime Minister Mart Laar hosted Latvian Prime Minister Andris Skele in the southern town of Karksi-Nuia. The pair held a brief meeting at which they discussed NATO and EU integration as well as bilateral ties. Skele promised to review the Latvian-imposed pork tariffs, as Estonia regards them as a violation of the Baltic Free Trade Agreement.
President Lennart Meri made a two-day visit to Germany early in the week. He received the highest honour bestowed by the German Union of Displaced People and attended an awards banquet in his honour - with German Interior Minister Otto Schily in attendance.
President Lennart Meri flew to Ukraine to take part in the Yalta Summit. This week, he will make a state visit to Iceland, along with Finance Minister Siim Kallas and Riigikogu Foreign Affairs Committee head Andres Tarand.
There was dispute this week among rival political groupings vying for the Russian-speaking vote in the upcoming local elections. People's Trust is upset that the rival group - People's Choice - has been registered. Originally, People's Trust was created as a united group including all rival Russian groups, but surprisingly the two largest parties opted out at the last minute and created People's Choice. This leaves People's Trust leader and MP Sergei Ivanov in a tough position, as his party, the United People's Party, is the founder of the rival group.
The registration period for candidates in the upcoming local elections ended. There were no big surprises. Most of the ministers in government are up as candidates, knowing full well they cannot serve in both local and national government at the same time.
The Czech government announced it will finally open its embassy in Tallinn in early 2000. Estonia is the only EU-front-runner that does not have a Czech embassy. The Estonian embassy in Prague has been in operation for over a year.
An estimated 1500 Scots descended on Tallinn for Wednesday's Euro 2000 qualifying football match between Estonia and Scotland. The jolly, kilt-clad Tartan Army partied for days before the match, which resulted in an embarrassing nil-nil draw for Scotland. This jeopardises the Scots' chances for qualifying for the championships and could be the death knell for Estonia's own dwindling hopes (see this week's Amber Coast).
The NATO Parliamentary Assembly President Javier Ruperez and the Assembly's Secretary General Simon Lunn visited Estonia earlier this week. The pair restated their support for Estonia's bid to become a member of NATO.
A huge amphetamines bust was made on the ferry from Tallinn to Helsinki. The stash was discovered in the fuel tank of a car and the driver was arrested. This is another highly-publicised case in a long string of drug smuggling incidents this summer.
The Tallinn city government was at the centre of controversy again - this time on account of its plans to lease a lucrative piece of real estate in central Tallinn, the Viru square, to a Finnish developing company with no competition for 99 years. One member of the Finnish company's board happens to be Indrek Toome, a Soviet-era prime minister. One commentator linked this deal to the same type of operations that Arthur Guinness pulled in Dublin back in the old days.
Investigators have concluded that the car driven by former Tallinn deputy mayor Mait Metsamaa was going over 100 kilometers-per-hour, thus establishing one major aspect of his guilt. Disputes by lawyers are forcing a re-test of his blood for alcohol. Metsamaa was accused of causing an accident while driving under the influence of alcohol which killed two people.
Also, Interior Minister Juri Mois was fined 4100 kroons for excessive speeding. He is known as a constant speeder among the police and press and is alleged to have been cited for the offence a few dozen times over the past several years.
The head of the Estonian Future Party, Jaanus Raidal, has been nailed for drink-driving as well. He claims it was a set-up.
A new but controversial research paper has showed that interwar President Konstantin Pats was on the take from Moscow. The paper, researched from archives in Moscow, alleged that Pats received USD 4000 annually. The researcher claims this explains why Estonia, unlike Finland, failed to resist Soviet coercion and invasion. Many other historians question the paper's thoroughness and validity, though most have agreed that it opens up a new sphere of discussion. It has also came out that the study was partly funded by the son of Pats's biggest political rival, former Prime Minister Jaan Tonisson.
The Estonian Embassy in Athens reported some mild structural damage following the earthquake this past week.
A gruesome cop-killing shocked Narva, when a car driven by a policeman was riddled with 40 bullets. Four hit the unlucky officer, killing him instantly. The culprits are still on the loose but a massive manhunt is underway.
The trade gap grew in July, though volume declined. Exports totalling 3.1 billion kroons and imports totalling 4.5 billion kroons made up a deficit of 1.4 billion kroons for the month.
Official unemployment figures held at five percent, though the eastern Ida-Virumaa remains highest at 9.4 percent and the coastal Parnumaa remains lowest at 2.7 percent.
Estonia registered deflation in August, as the CPI dropped by 0.2 percent.
The switch in late October to Daylight Savings Time will be the last in Estonia, as the government ruled that starting in 2000, Estonia will no l onger move the clocks forward in the spring.
Estonia's first free Internet service, TELE2, has had to reject new subscribers due to excessive demand. Several thousand interested parties in the first two days forced the move, though the company said they will reopen the registration once they can assure quality for the current subscribers.
The government and the TALO union worked out a new minimum wage scheme for the following years. The monthly minimum wage will jump in 2000 from the current 1250 kroons to 1400 kroons. At the same time, the tax-free minimum wage will jump from the current 500 kroons monthly to 800 kroons in 2000 and perhaps 1000 kroons in 2001.
The Bank of England rated the Estonian Central Bank second in transparency among Central and East European central banks, just behind the Czechs and ahead of the Lithuanians. This group ranks ahead of several EU central banks as well.
Luup magazine reported that there are currently 500 millionaires in Estonia.

---
Latvia
After a neighbourly official visit to Estonia in late August, Latvian President Vaira Vike-Freiberga travelled to Lithuania for a two-day official visit early in the week. There, she met with her counterpart, President Valdas Adamkus, as well as Prime Minister Rolandas Paksas and Foreign Minister Algirdas Saudargas. Issues relating to EU and NATO enlargement as well as bilateral ties featured in the discussions. The two presidents also opened an exhibit called Lithuania and Latvia: Between the World Wars at the Martynas Mazvydas National Library in Vilnius.
The Saeima made President Vike-Freiberga's trip difficult when its Economic Committee rejected the Latvian-Lithuanian maritime border treaty. Members of the Committee said it was not in Latvia's national interest to ratify the document, signed by the two Prime Ministers back in July. Most put on a brave face and called it a temporary setback.
President Vike-Freiberga also faced accusations of nepotism when her son was hired by the presidential chancellery. Vike-Freiberga's son, Karlis, is working as a translator in English and French. Though he is fully qualified, political watchers say this is a bad example being set by the new president.
Though taken before this recent set of problems, polls indicate that President Vike-Freiberga's popularity is falling. Dropping by ten points, her popularity rating now sits at 56.5 percent. This is just under Riga mayor Andris Berzins's rating of 56.6 percent. Central Bank chief Einars Repse sits in third place with 53.2 percent.
With all this baggage, President Vike-Freiberga travelled with her Estonian counterpart, President Lennart Meri, to the Yalta Summit.
The month-long signature collection process began for the amendments to the pensions law. The controversial amendments, which raise the retirement age and places restrictions on working pensioners, passed in the Saeima with little difficulty last month. But over a third of the members in opposition signed a petition to halt the implementation of the law and open the possibility of it going to referendum. If more than ten percent of Latvia's electorate sign the petition by 5 October, then this issue will go to referendum. President Vike-Freiberga supports raising the retirement age, but is concerned about the restrictions on working pensioners.
A recent poll also shows that popular support for EU membership crawled over the 50 percent mark.
A Riga judge, Aleksejs Repse, committed suicide in his chambers after being sacked. He apparently showed up at work drunk, and that caused his removal from the bench.
Economic Minister Vladimirs Makarovs blasted the Latvian Privatisation Agency over the draft privatisation conditions for the Latvian Shipping Company. The sell-off of Latvia's lucrative fleet has again been postponed and most doubt that the needed funds will reach state coffers by year's end.
Surrounding this case is also a very ugly and public row between Makarovs and Prime Minister Andris Skele. Makarovs's and Skele's accusations against each other in the media have intensified, and most watchers believe that something dramatic may happen in the Cabinet soon.
NATO Parliamentary Assembly President Javier Ruperez and Secretary-General Simon Lunn continued their Baltic tour in Latvia. There, they also met with top officials and re-affirmed the Parliamentary Assembly's support for Latvian aspirations to join NATO.
A poll shows that most Latvians do not trust their banks. Nearly 75 percent of respondents say they have no confidence in their banks, while less than 15 percent expressed their confidence.
The Vatican has announced that its pavilion for Expo 2000 will be relocated after the event to Liepaja, where it will have its permanent home.

---
Lithuania
The Lithuanian government decided to support the Economic Ministry's draft energy strategy for the next five years - which includes the planned shutdown of the first unit of the Ignalina Nuclear Power Plant in 2005. This measure still needs to be addressed by the Seimas of course, and does not affect the second unit at Ignalina - which will be left for the next strategy paper, due in 2004. Experts claim that the shutdown costs for the first unit will hit 10 billion litas, while restructuring the power sector will cost 2.8 billion litas up to the year 2020. This strategy may be still not satisfy Brussels and anti-nuclear Austria, as it does not address the second unit at all and basically just promises that the first unit will be shut down at the end of its original design life.
Economic Minister Eugenijus Maldeikis rushed to Brussels to present this plan to the European Commission, hoping to offset any problems related to Ignalina before the Commission's September assessments are published.
The Lithuanian Economic Ministry revised downward growth forecasts bringing 1999 GDP growth down to 0.3 percent. This is a drop from the already revised 1.3 percent growth prediction published in the summer. However, CPI should stay the same at 2.2 percent increase. Most dramatic is the drop in industrial production, which is now predicted to fall by 4.2 percent from earlier estimates of a 3.6 percent rise.
There was intense anger among the legal community in Lithuania over the statements of US Justice Department Special Investigator Eli Rosenbaum regarding the Aleksandras Lileikis case. A judiciary panel ruled against a prosecution motion for a re-examination of Lileikis's health, deeming that Rosenbaum has not added any pertinent information. Many in the legal community are calling Rosenbaum's letter, in which he declines to give his sources for his accusations that Lileikis is falsifying his illness, an insult to the country's judiciary system.
Controversy raged when it was reported that Belarusian President Alyaksandr Lukashenka refused to allow a flight corridor for President Valdas Adamkus, who is travelling to the Yalta Summit. Though conflicting reports indicate that Lukashenka has since backed down, the President's office is reported to be probing the case and contemplating a lawsuit against the dailies that launched the story.
Irish Foreign Minister David Andrews travelled to Lithuania for a two-day visit. During the trip, Andrews met with his counterpart, Foreign Minister Algirdas Saudargas, as well as President Valdas Adamkus. Topics discussed included EU enlargement, the Northern Ireland Peace Process and bilateral ties. One issue of interest is the two countries' co-operation on gaining seats in the UN's Security Council, with Ireland aiming for a seat during the 2001-02 session and Lithuania in the 2004-05 session.
A "breakfast for the poor" was held in central Kaunas by maverick politician Vytautas Sustauskas. He was also the organiser of the "march of the poor" and the "homeless ball" and other off-the-wall events. At the same time, the Council of Europe deemed Sustauskas's party, the Lithuanian Freedom Union, an "extremist" party, alongside the right-wing Jaunoji Lietuva (Young Lithuania).
Shockingly, the Seimas will not deliberate the cuts to the 1999 budget until later this month, and passage is not expected until October. Yes, you read right, this is for the year 1999.
Well-known Eurosceptic and nationalist MP Rimantas Smetona is calling for early elections. The Seimas elections are due in late 2000, while local elections are to be held in March. Smetona is joining other opposition groups to merge the two elections in March in order to lower administrative costs and increase turnout, though the real motive is to facilitate a quicker exit by the Conservative-led government. Others, such as the New Alliance (Social Liberals) of former presidential candidate Arturas Paulauskas, have also joined the call.
A scary report came out on alcohol and society. It showed that there are 68,700 diagnosed alcoholics in Lithuania, with 2600 suffering alcohol-related mental problems. Sadly, most believe the real figures are much higher. The study also showed that beer consumption increased dramatically, while spirits consumption fell. On average, consumption fell by 5.5 percent.
Prime Minister Rolandas Paksas is in Paris for a series of meetings. Details of the visit will carry over into next week's Baltic News Review.
Lithuania has presented its action plan for NATO, being the first of nine possible candidate countries to do so.
SODRA, the social insurance fund, is asking for money from the privatisation fund in order to keep pension payment funds liquid. SODRA has been suffering from low liquidity and low collection of payments, which has forced it into heavy and dangerous borrowing.
Unemployment climbed up to 8.1 percent in August, with the southern Lazdijai region still leading, at 17.7 percent.
Deflation continued with a CPI drop of 0.2 percent in August. This is the third month in a row of deflation, though experts believe it was seasonal.
Former President Algirdas Brazauskas is due to receive this year's Baltic Peace Prize.
A Vilnius hospital performed the first artificial heart transplant in Lithuania.
The German Norddeutsche Landesbank is applying for a banking license in Lithuania.

---
Exchange Rates
As of 9 September 1999
currency
Estonian kroons (EEK)
Latvian lats (LVL)
Lithuanian
litas (LTL)
1 US dollar (USD)
14.77
0.59
4.00
1 British pound (GBP)
24.17
0.96
6.55
German mark (DEM)
8.00
0.32
2.16
Euro (EUR)
15.65
0.62
4.22
| | | | | | | |
| --- | --- | --- | --- | --- | --- | --- |
| currency | Czech koruna (CZK) | Hungarian forint (HUF) | Polish zloty (PLN) | Russian rouble (RUB) | Slovak koruna (SKK) | Slovenian tolar (SIT) |
| 1 Est. kroon (EEK) | 2.35 | 16.34 | 0.27 | 1.74 | 2.82 | 12.58 |
| 1 Latvian lats (LVL) | 59.16 | 411.78 | 6.89 | 43.93 | 70.97 | 317.09 |
| 1 Lith. litas (LTL) | 8.67 | 60.34 | 1.01 | 6.44 | 10.48 | 46.46 |

---
Mel Huang, 10 September 1999
---
News Sources
Baltic News Service (BNS)
The Baltic Times
Radio Free Europe/Radio Liberty
Reuters news on Yahoo
ETA
Eesti P"evaleht
Postimees
źrip"ev
ELTA
Lietuvos Rytas
Lietuvos Aidas
Kauno Diena