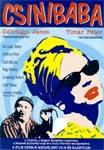 K I N O E Y E:
Unsentimental Reveries
Peter Timar's Csinibaba
---
Andrew J Horton

Coming up soon is the highlight of the year for fans of Hungarian film: the Hungarian Film Week in Budapest. Kinoeye will, of course, be present, covering the event. In the meantime, to whet your appetites, here's a look at the film which shared the festival's Grand Prize in 1997, Peter Timar's "sixties music and dance reverie" - Csinibaba (Dollybirds, 1997).

It's 22 August 1992, and the day is starting much like any other in Communist Hungary. Uncle Simon wakes up the tenement block with some stirring music and makes the day's announcements. To Attila, there is one that really is worth listening to this time. There is to be a talent competition and, more than that, the first prize will be a trip to a youth convention on the other side of the Iron Curtain -in Helsinki. This has particular interest for Attila, since his beloved, Katinka, lives in Toronto. The distance between them is straining his heart, not to mention the fact that she hasn't written for a good number of years. Winning the competition would be an ideal way of escaping to Canada so they may be reunited.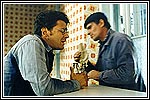 Everything for Attila seems to be on the up. He forms a band to realise his talent contest dreams, and Katinka even starts writing to him again (although she doesn't give him an address to reply to). However, he is not the only one who has pinned his hopes on winning. Everyone on the block seems just as determined to win the competition and go on the coveted trip to the West. How could things remain simple in such a scenario?
Postmodern nostalgia
Csinibaba, which is based on Gyula Marton's novel Bambi szalmaszallal, is a cut above your average recreation of the sixties. As well as meticulous attention to costume and scenery to evoke the era, Csinibaba has a great soundtrack to transport you back to 1962. In fact, the films musical numbers work so well that the soundtrack album became a best-seller in Hungary. Performers such as Kispal es a Borz and Gabor Zavodi may not exactly be chart-topping stuff outside of Hungary, but once you've seen the film you can't help but wonder why on earth not. The appeal of the tunes has crossed the generational divide which Csinibaba portrays with the album selling just as much to hip young things as to 60s veterans in search of a bit of nostalgia. I'd certainly be proud to have a copy of it in my tape collection anyway.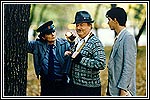 Timar's real triumph, however, is that for all the success he has in bringing the Hungary of 37 years ago to life, he has actually created a film which is totally up to date. Its sense of absurdity is decidedly modern, its camp is undoubtedly post-modern and its comic timing is definitely nineties. Exploiting the very absurdity of the medium of the musical, Timar gains good comic effect when all manner of characters break into song in the most unlikely of places. Timar also makes very effective use of editing to caricature his characters, speeding up short impulsive movements to accentuate how laughable they are or slowing characters down to allow them to wallow in their own narcissistic sensuality. This all makes Csinibaba an engaging mix of period accuracy and anachronism.
Goulash Communism
Although not without the nostalgia which usually characterises our view of this era, Timar and Marton's view of the period is notable for the irony and a gentle tugging satire which underlines it. When I saw the film at a meeting of the Hungarian Film Club in London, I was lucky enough to hear Dr Sandor Striker of the Hungarian Cultural Institute introduce the film. Dr Striker evoked his personal feelings about the period by noting that Hungary had seemed to him to be "a nice place for pensioners to live." The severity of the post-1956-uprising clampdown had passed and the ideological thinking of Kadar's ruling regime was dubbed "goulash Communism" for its attempt to appeal to Hungarian nationalists.
And it's the flavour of this age which Timar so endearingly recreates. A period when life was comfortable, but didn't give you much space for hopes and dreams. In such a climate, the young at heart can hardly fail to have dreams and they can only be frustrated ones. Timar collapses all the hopes and expectations of his heroes just as artfully as he builds them up. Indeed all the characters are in some way bound by the gap between life as they dream it should be and life as it is. In this they are just as ridiculous as the bureaucratic system they live under where, as the production notes tell us, the authorities cannot even allow accidents to be left to chance.
Peter Timar's latest film 6:3 will be shown at the Hungarian Film Week. For more details see below.
Andrew J Horton, 26 January 1999
Further Surfing
The usually excellent Filmkultura offers a rather disappointing review by Peter Snee. Snee disagrees with Kinoeye entirely and finds the film unsatisfactory in depicting Hungary's "inglorious past." Given the quality of the translation, you might prefer to read his review in Hungarian. Erzsebet Bori, film critic for the Hungarian Quarterly gives the film a kinder but shorter review and at the same time looks at the film with which Csinibaba shared the Grand Prize at Budapest - Attila Janisch's Hosszu alkony (Long Dusk, 1997). Andras Csejdy in the same journal also rates the film favourably, although he is rather less complimentary about the general state of Hungarian cinema.
For a list of production credits, the Internet Movie Database is the place to head.