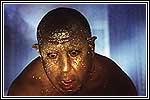 Bratislava Babylon

K I N O E Y E:
Slovakia Discovered (Part II)
Vlado Balco's Rivers of Babylon
---
Andrew James Horton
Those who enjoyed Peter Pistanek's best-selling book Rivers of Babylon will have been eagerly awaiting Vlado Balco's recently released screen version which has been in the pipeline since 1991. The film has surprised fans of the original, who tend to dislike the darker mood, the moral message and the political implications of what producer and co-scriptwriter Marian Urban has described as Slovakia's first underground film.
Rivers of Babylon (1998) is set in the autumn of 1989 "somewhere in Central Europe," although there is no attempt to hide the fact that this "somewhere" is in fact Bratislava. Other films set in this period, such as Jan Sverak's Oscar-winning Kolja (Kolya, 1996), have emphasised the idyllic beauty of Central Europe at this time and bathed it in warm late-summer light. Rivers of Babylon, by contrast, is largely shot in down-beat suburban locations with a cool greyness to the palette. All glamour is strictly of the tackiest kind, as epitomised by peroxide-blonde prostitutes and the favourite song of the film's anti-hero - Boney M's "Rivers of Babylon."
The anti-hero in question is Racz and the film charts his rise from boiler-stoker to business tycoon, assisted in his progress by equal measures of extreme violence and charisma. He uses his position in a hotel boiler room to extort money and sexual favours from hotel guests and staff by controlling their heating. From this he rises to become de facto director of the hotel from which it is a short leap to forming a burgeoning business empire. In his meteoric rise he rewards the faithful handsomely and brutally eliminates his opponents.

The original book

The immediately noticeable difference from the book is that the film is narrated by pimp and black-marketeer Video Urban, as opposed to the book's omnipresent anonymous narrator. As Marian Urban explained in a post-screening discussion, Video is used because, with his constant desire to quit crime, he was a good device for injecting a moralistic element into the shamelessly amoral book. Indeed, the book's trashy mix of violence and hedonism showed Pistanek's lack of interest in literature as anything other than an entertaining game. Moral judgement in the film is also provided by the character Freddie, who has a bent for haranguing those around him with all the style of an Old Testament prophet. He denounces their unrestrained decadence and compares their ways to those of the doomed ancient empire of Babylon. The film's characters are so darkly satirical that they have been compared to the viscous caricatures of the Weimar Republic painter George Grosz.

Another source of discomfort for those who like the book, might be the ending. Whereas the book ended happily with a wedding, the film has an empty, nagging sort of resolution with Video giving us a bleak neo-Buddhist message to finish what he could not do - destroy Racz and his evil empire.

As with so many Slovak films these days, Rivers of Babylon was delayed because of finance problems. The film originally had a grant from the Slovak Ministry of Culture, but when HZDS took control of the country, Vladimir Meciar's new man at the ministry Dusan Slobodnik withdrew the money intended for this film about a corrupt and immoral man who gives employment to his cronies to extend his grip on an empire based on power. I wonder why.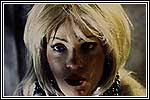 Peroxide rules

It is the long, difficult gestation period that is the key to the differences between the book and the film. In the delays, scriptwriters Pistanek and Urban continually revised their screenplay as circumstances in Slovakia changed as time went on. Pistanek's changing attitude can also be seen in his 1995 book Tales of Vlado, a series of stories written about one Prince Vlado who rules over his land, much adored by his subjects who worship everything he says, even though they do not understand any of it. Ironically, if Slobodnik had given the money as originally planned the film would have been a lot closer to the novel and thus also politically less offensive.

Marian Urban discussed these problems of finance in detail, first at the cinema and then afterwards in a near-by pub, where the producer got into a heated debate with the Slovak ambassador to Britain Igor Slobodnik - son of Dusan. (Incidently, Slobodnik Jr had to endure a further series of unpleasant references to his father when he attended London's School of Slavonic and East European Studies' colloquium on Slovak culture organised as part of the festival.)

All this intrigue makes the film much more rewarding. It has also helped narrow the film's audience. Urban reported that Czech audiences did not find some of the scenes as funny as Slovak audiences did because the situations did not correspond to the current reality in the Czech Republic.

Rivers of Babylon is a truly original film. For one thing it rejects the ruralism prevalent in Slovak cinematography, but it is even more astounding in its message. The return to subversive political allegory as a cinematic form of expression makes it unique, not just in Slovakia but in Central and Eastern Europe generally.

Andrew James Horton, 30 November 1998

Click here to visit the Rivers of Babylon website.

Click here to read an interview with Peter Pistanek by Andrew James Horton.