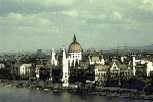 C S A R D A S:
The Latest Scam

---
Gusztav Kosztolanyi
The ingenuity of the criminal mind knows no bounds. Frontier guards in Hungary have openly confessed that it is only a matter of time before the latest Hungarian passports will be forged at a price for illegal immigrants. The wonders of modern technology can be used to open up hitherto unimagined niches to clever con-men, who are quick to latch on to the latest means of exploiting the most vulnerable groups in society. In vogue at the moment is the job-placement swindle, which has done much to exacerbate the misery of the long-term unemployed. Lured by the hope of escaping the poverty and debt traps, punters have been persuaded to part with their dwindling cash reserves by fraudsters posing as recruitment agents.
According to an investigation into the subject by Magyar Nemzet (25 January) no precise figures are available as to how many illegal, unregistered companies have fleeced their unwitting clients, but since March of last year, stringent rules have been in force to regulate the profession, with a view to clamping down on abuses. So far, however, these provisions have remained ineffective, achieving the opposite of what they were intended to do by reducing the number of bona fide operators.
The most common trick is to charge victims a registration fee ranging from 2,000 to 2,500 forints (about USD 10) with the promise of a job in return. At most, the hapless customer can expect to be informed about posts for which he or she possesses no qualification or which have long since ceased to be vacant. A variation on the theme is to make lavish claims concerning work abroad, as was the case with the agency that advertised tree-planting work in Gabon. The salary was very respectable, the accommodation - in air-conditioned caravans - luxurious. More information could be obtained by dialling a number and, once connected, the applicant listened to a spiel lasting well over half an hour, at the end of which, assurances were given that candidates would be given an update to inform them whether they had been accepted. No such feedback was forthcoming. Only on perusing their phone bills did it dawn on them how the racketeers had lined their pockets: the charge per call was far in excess of normal rates.
The worst example of such fraud thankfully ended with arrests: 2,700 people were cheated out of a total amount of some 15 million forints by a bogus agency that enticed clients by guaranteeing a job after completion of a further training course, with addresses given in 22 settlements. A place on the course would be booked on the basis of a downpayment of 5,500 forints (USD 25) to be transferred to a bank account. On arriving at the premises, victims discovered that not only did the office not exist, but no-one had heard of it either. Naturally, this has generated some disgruntlement. Indeed, the problem has assumed such serious proportions that experts have advised job-seekers against calling any number with the prefix 06-90, and have further cautioned against their responding to any advertisers whose principle selling point involves bragging about excellent pay and conditions, a sad indicator of the bleak realities of the Hungarian labour market.
The penalties imposed for such breaches seem paltry in comparison with the misery dealt out: failure to register as an operator carries a fine of between 5,000 and 50,000 forints (USD 23 to 230), whilst transgressions against the rules regulating the profession of recruiting agency can entail a fine of up to 30,000 forints (USD 138). In both instances, offenders are reported to the police.
It would be too easy to write off the victims as gullible fools: despair breeds rashness, and Hungarians are just as susceptible to the get-rich-quick fantasies that saturate our societies as anyone else these days. They are not more credulous by nature than their counterparts elsewhere, they simply lack experience in distinguishing between the genuine article and a phoney. All our relations in today's world revolve around trust: even publication in a quality broadsheet can be looked upon as an expression of confidence, a type of endorsement of content.
At any rate, hope for the future is being placed not so much in the courts as in the reputable agencies which stand to lose out more than anyone else from the systematic and sustained attack against their work and their reputation. They are not going to take the onslaught lying down.
Gusztav Kosztolanyi, 15 February 1999