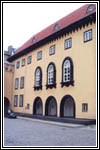 T H E A M B E R C O A S T:
The Final Stretch

---
Mel Huang
Estonia's general elections campaign has finally accelerated into full speed as the parties fight over the large number of still undecided voters. According to a recent poll by the EMOR polling agency, some one-third of voters are still not sure for whom they will vote. With only a few weeks left before the 7 March elections, these final days of campaigning will be crucial to the balance of the 101-member Riigikogu and the composition of the new government.
Along with celebrations of Estonia's 81st Independence Day on 24 February, the nation is stuck in political quicksand -- there seems to be no escape. Familiar billboards for companies such as Nokia and Estonian Air have been replaced by various political signs all over the country. Newspapers, magazines, radio, television, even web pages, are full of political advertisements. All of this is designed to entice the voter to sway towards one party or the other.
The personalities of the parties play a significant part in the campaign. For most parties, campaign advertisements feature a slick slogan and the endless promotion of its leaders and most prominent members. The majority of resources appears to be devoted to the national campaign in an attempt to enhance the party's image. Though the big battle is fought at that level, the true battle lies in the local level. As Estonia is split into eleven electoral districts and voters cast their ballots for a single candidate (bearing one of nearly 2000 numbers), individual candidates also struggle for their candidacy numbers to be ingrained into the minds of their voters. Estonia's quirky electoral system distributes the vast majority of its seats by proportional representation, despite voting being at the level of single candidates.
As Estonia is a small country, national recognition for a party is vital. Regardless of the distribution of votes for candidates in an electoral district, for a party to gain seats via proportional representation, the total votes for all its candidates in all eleven regions must reach five per cent of the national total. In light of this, we will take a rather unique look at the campaigns of the six largest groups vying for votes, the only likely parties to surmount the five per cent minimum threshold.
The top half dozen
The Reform Party (Reformierakond) has been leading the polls for months, currently sitting at around 15 per cent. Using their slogan "Tugev majandus, kindel tulevik" ("A strong economy, a secure future"), the liberal pro-business party has once again dominated the campaign (as it has in the previous elections) with posters, newspaper advertisements and street signs, not to mention various Internet sites. A feel-good television advertisement reiterating the slogan and showing scenes of happy Estonia also reigns supreme on the airwaves. The party's large advertisements in newspapers boast larger-than-life photos of the party's top dogs. Some of these have been blown-up for use on billboards, but unfortunately some of the unflattering photos have been marked by carefully targeted snowballs during this winter of heavy precipitation. It does not help either that recently the main news coverage related to the Reform Party has been the ongoing corruption case of its leader, Siim Kallas.
Also on the top of the polls at a similar 15 per cent is the Centre Party (Keskerakond) of former Soviet and transition-era premier Edgar Savisaar. The populist centre-left party has been actively campaigning since late last year, calling for policy changes such as the introduction of a progressive income tax. Their populist messages have brought the party strong support from many disenfranchised urban voters, an example being its success in the Tallinn local elections of 1996. However, one of their advertising presence for this current campaign has been thought of as somewhat threatening in appearance. Large billboards inundate Tallinn featuring only Mr Savisaar's eyes, behind his trademark glasses, with the slogan "Keskerakond teab lahendusi" ("The Centre Party knows the solutions"). Some state that the eyes of Mr Savisaar, who has been characterised by an opposition candidate as a "heavy-set, jowly man," hint at his desire on being a "big-brother" figure. Perhaps it is no surprise that he resigned his Interior Minister job several years ago due to a scandal which connected him to the illegal taping of private phone conversations between other politicians. There have also been allegations of improper campaigning, such as using their position in the Tallinn city government for campaign purposes and the staging of a political discussion on television without appropriate indication that it was a paid-for programme. Nevertheless, the calm though intense nature of Mr Savisaar is convincing for many voters.
Coming in third in recent polls at 9 per cent is Pro Patria Union (Isamaaliit). They have waged a quieter campaign in the earlier days and have only in the last few days moved into full swing. Utilising a simple message of "Parema elu nimel" ("In the name of a better life"), the centre-right party has surprisingly focused less on its personalities than other parties. The party is full of personalities, including former Prime Minister Mart Laar and former Hansapank chairman Juri Mois, but has refrained from such overexposure of its prominent candidates. Perhaps it is the even approach to a party with too many personalities (thus egos). Along with this late push the party has expanded its television exposure and has organised many concerts and sporting events.
Also at 9 per cent is the Rural People's Party (Maarahva Erakond). Depending with whom you discuss this issue, they could either be taking a large gamble or are suicidal in their urban-intensive campaign. Using the slogan "Maarahva haal Toompeal!" ("Rural people's voice on Toompea!), they have made a significant effort to win votes in ultra-urban Tallinn. Tallinn, argued by some as anti-rural, has been inundated by flyers, as well as large posters of Vahur Glaase, the only prominent member of the party running in a Tallinn district. Political watchers argue that it is a gamble, since the party believes they have the rural votes already; others feel that it's a waste of money, as Tallinners would not vote for a rural, thus arguably anti-urban, agenda. Furthermore people recall farmers and assorted rural types protesting to no avail on Toompea over protective tariffs. Significantly, the party announced that its prime ministerial candidate would be current Environmental Minister Villu Reiljan. This would indicate that the party's leader, former Soviet-era Chairman of the Supreme Soviet Arnold Ruutel, has been tapped as a presidential candidate for 2001. That would also validate the rumours that the co-operation agreement signed between the Rural People's Party and the Centre Party in January includes such an arrangement -- providing they win, of course.
Coming in next at 8 per cent are the Moderates (Moodukad). With the People's Party (Rahvaerakond) running on its list, the Moderates have featured its personalities as prominently as other parties. With the flashy slogan of "Aitab jamast - vali Moodukad," which can be roughly translated into "Cut the crap - vote Moderates," alongside a flashy but humorous television spot, this party list of varying interests has opted for a less concrete message. This is not surprising, as the Moderates have a large socialist wing and the People's Party have prominent nationalist and agricultural factions. The two leaders of the group - Moderates leader Andres Tarand and People's Party leader Toomas Hendrik Ilves - both have very high personal ratings but have not translated to overall party support apparently. Some have also negatively commented on the again larger-than-life photos of the prominent candidates on billboards, which features the portraits taken with the exact same angle and lighting and black shirt. Taking the unity message just too far?
Finally bringing up the rear at the 5 per cent minimum threshold is the united list of the Coalition Party (Koonderakond). Its advertisements, which are in bright orange, feature the slogan beginning with "Uheskoos..." ("Together...") alongside the names of its election partners, the Pensioners' and Families' Union (Pensionaride- ja Perede Liit) and the Rural Union (Maaliit). Despite being the current governing coalition, the party has done little else to support their campaign. Several advertisements in newspapers featured full-figure photos of prominent candidates; sadly, none are very appealing in both photo and caption.
Unique press coverage?
Every weekday TV1 broadcasts a programme devoted to the top six election lists. They present a topic in advance and representatives from each group are given 90 seconds to respond. In the mean time, callers vote for whom they support most. Generally it has followed the same trends as all other polls, but as it is a TV-based poll, the Rural People's Party naturally are underrepresented at about 4 per cent. Usually the Reform Party receives 25-30 per cent of the call-in votes, followed by the Centre Party with roughly 20-25 per cent and both Pro Patria Union and the Moderates coming in with 10-20 per cent. However, it is quite obvious that, despite the 65 sents per call charge, the voting is done very deliberately and is pre-planned.
On the humorous (nearly slanderous) side, the colourful popular weekly Eesti Ekspress has featured satirical versions of the various campaign ads. Among the parodies are ads depicting Reform Party boss Siim Kallas behind bars and the pasting of Centre Party leader Edgar Savisaar's face, with wig, on a horrendous photo of a 700-pound nude woman. This past week the paper also featured a take on how a government under each of the parties would affect a normal family man in Tallinn, with examples graphically illustrated by one of the top humour sketch artists in Estonia.
But finally, after weeks of hesitation and a relatively lacklustre campaign season at first, things are finally in full swing with only a few weeks remaining. With some one-third of voters still to be convinced, the parties are waging an all-out war to win that large bloc of votes. It will be this group of undecided voters that determine the formation of the next government, a government that will lead Estonia into the 21st century.
Mel Huang 22 February 1999
For More Information (NB! Not all are in English):
The Riigikogu (Parliament) of Estonia
The Electoral Commission (Valimiskomisjon) of Estonia Centre Party (Keskerakond)
Coalition Part (Koonderakond)
Moderates (Moodukad) Pensioners' and Families' Union (Pensionäride- ja Perede Liit)
People's Party (Rahvaerakond)
Pro Patria Union (Isamaaliit)
Reform Party (Reformierakond)